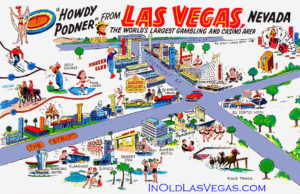 By Larry Henry
The made-up city name "Lost Wages" used to appear on postcards for sale in Las Vegas, showing a hapless tourist stranded in the desert — a camera around his neck, as I recall, and wearing Bermuda shorts — with his front pants pockets forlornly pulled out like rabbit ears, indicating he gambled away all of his money during a Sin City vacation.
Las Vegas, Lost Wages. Similar sounding, same place, according to the postcard.
I haven't looked in awhile, but my guess is you can still find those postcards somewhere around town.