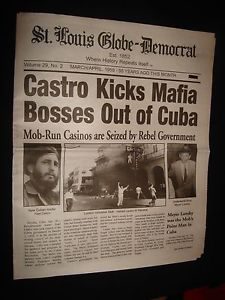 By Marla Eggar
The CIA and the Mafia have more in common than meets the eye. Both enjoy working in the dark and a legal status which operates above the law. According to declassified documents, the CIA at one point planned to use the mob to assassinate Cuban leader Fidel Castro for $150,000! Documents detail how the mob and "Cuban exiles" settled on a payment of $100,000 for assassinating Castro, $20,000 for his brother Raúl and $20,000 for revolutionary Ernesto "Che" Guevara, plus $2,500 for expenses.
Not sure why there's a difference of $7,500, but I digress.
As the story goes, following a meeting with the Office of security, Richard Bissell a CIA officer, employed a go-between, Robert Maheu a businessman and lawyer,and asked him to make contact with "gangster elements".