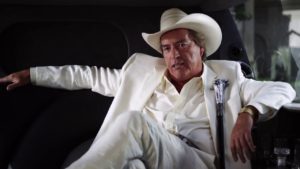 By "Bad" Brad Berkwitt
Character actor Powers Boothe who appeared in such great movies as Tombstone, Sin City, the original Red Dawn (not the horrible remake) and many others died in his sleep of natural causes at the age of 68.
His role of Curly Bill, in Tombstone, is beloved by millions of movie fans and I am in that group.
His rep told The Hollywood Reporter that a private service will be held in Boothe's home state of Texas, with a memorial celebration under consideration as well.
Donations can be made to the Gary Sinise Foundation, which honors the nation's defenders, veterans, first responders, their families and those in need.
NewzBreaker extends our condolences to the Boothe Family in their time of grief.