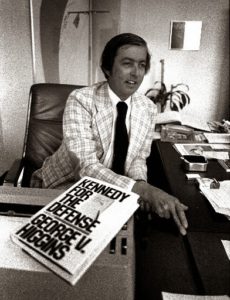 By Larry Henry
Writing about the "Crimetown" podcast series on Providence, Rhode Island, last week brought to my mind the writer George V. Higgins.
Higgins, a New England journalist and lawyer who once worked in Providence — he died in 1999 — is one of the great novelists in American literature, known nowadays by too few readers, possibly because he is categorized only as a crime writer.
But compared to many who write "crime fiction" or "mysteries," Higgins gives readers much more than the standard potboiler plots and bent-nose bad guys. His eye for detail and ear for authentic dialogue rival anyone who has published any kind of fiction — literary, crime, or anything else.
Higgins truly earned his understanding of the murky characters he wrote about.
A heavy drinker who died of a heart attack at only age 59, Higgins spent much of his nonliterary professional career in two of the most corrupt, mobbed-up cities in America, first as a newspaper reporter in Providence, then as a journalist, prosecutor, and criminal defense lawyer in Boston. Among his clients as a defense lawyer were Eldridge Cleaver, a political activist and Black Panther Party leader, and G. Gordon Liddy of Watergate notoriety.
As a result of his background, Higgins' knowledge of the criminal underworld, and his understanding of those who inhabit courthouses (judges, criminals, prosecutors, defense attorneys, Mafia bosses, TV and newspaper reporters), is unmatched.
In addition to its accurate depiction of the way those people talk and conduct themselves, his fiction offers an unsentimental view of the streets that you won't find in many novels where criminal characters are one-dimensional or glamorized in some way.
If you're unfamiliar with his work, you might want to start with his first published novel, "The Friends of Eddie Coyle," centering on a lowlife gunrunner in Boston and the gritty world he inhabits.
Even legendary crime writer Elmore Leonard called "The Friends of Eddie Coyle" the "best crime novel ever written."
That novel and another, "Cogan's Trade," became movies, "The Friends of Eddie Coyle" coming out in 1973 with noir mainstay Robert Mitchum in the starring role.
In their 2011 compilation "The Ultimate Book of Gangster Movies," Philadelphia writers George Anastasia and Glen Macnow rank "The Friends of Eddie Coyle" among the best gangster movies of all time.
"Cogan's Trade" was released as the movie "Killing Them Softly" in 2012, starring Brad Pitt, about small-time villains who knock over a mob-run underground card game and the resulting violent consequences. It is one of my favorite movies.
Though Higgins died relatively young, he published more than 20 books. Digging into them will give you a deeper understanding of the kind of figures on both sides of the law who become lead stories on the nightly news — or on podcasts like "Crimetown."
Larry Henry's YouTube channel includes videos he shot of mob sites in Las Vegas, the apartment building in Santa Monica, California, where Whitey Bulger was arrested, and the remote Arkansas airport where Barry Seal transported drugs into the U.S for the Medellin Cartel. Subscribe HERE.
Comments or questions are welcome.