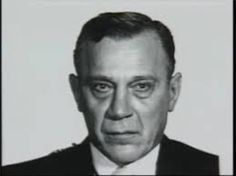 By Marla Eggar
"His eyes had no color… as if his soul was transparent". — A characterization from a news reporter about Dellacroce.
"Dellacroce was one of the scariest individuals I've ever met in my life. Dellacroce's eyes were like he didn't have any eyes. Did you ever see 'Children of the Damed?' His eyes were so blue that they weren't even there. It was like looking right through him."— Joseph Coffey, a former New York mob investigator.
"When Carlo Gambino died, if I'd been asked to place a $10 wager as to who would be his successor, I would've put $10 on the man who was his underboss, Aniello Dellacroce, a tough man. Of all the gangsters that I've met personally and I've met dozens of them in all of my years there were only two who when I look them straight in the eyes I decided I wouldn't want them personally mad at me. Aniello Dellacroce was one and Carmine Galante was the other. They had bad eyes, I mean, they had the eyes of killers. You looked at Dellacroce's eyes and you could see how frightening they were, the frigid glare of a killer."–Ralph Salerno, a former New York Police Department detective.
Aniello "Neil" Dellacroce, aka "Father O'Neil" or "The Tall Guy," was born March 15, 1914 to Francesco and Antoinette Dellacroce in New York. Dellacroce had one brother Carmine and was the uncle of Angelo and Salvatore Ruggiero. The one-time Murder Inc. hitman was widely known for his terrifying death stare, fearlessness and viciousness. Before his Gambino days, Dellacroce was a part of the Mangano crime family in the 1930s. He soon became a protégé of underboss Albert Anastasia. Once Anastasia became boss he appointed Dellacroce as a caporegime with his own crew. Later Dellacroce bought and set up shop at the Ravenite Social Club in Little Italy.
The club was a popular Gambino hang out and Dellacroce headquarters. After Anastasia's murder in 1957 Carlo Gambino became boss. Gambino was suspected of plotting Anastasia's murder with Luciano crime family boss Gaetano Lucchese and Luciano crime family capo Vito Genovese. Dellacroce was a strong Anastasia supporter yet an old-school mobster who believed in loyalty to the family and its boss, who now was Carlo Gambino.
In 1965, Gambino appointed Dellacroce to underboss;however, in 1971 he was sentenced to one year in state prison on contempt charges for refusing to answer grand jury questions about organized crime. In 1972, Dellacroce was indicted on federal tax evasion charges. He was convicted and sentenced to five years in prison. In 1976, Carlo Gambino died of natural causes, a heart attack. In the wake of Carlo's death, everyone presumed that Dellacroce would be the next boss. However, on his deathbed, Gambino announced that his cousin and brother-in-law Paul Castellano would be the new boss of the family. Many of Dellacroce's supporters were pissed off with Gambino's choice. Despite the fact that Paul was a good earner for the family, many saw him as a business man rather than a gangster. To ease the transition of power (and tension, no doubt) Dellacroce stayed on as underboss.
In addition, Dellacroce would also control family business-robbery, hijacking in extortion in Manhattan. As always, Dellacroce faithfully pledged his loyalty to the boss, now Paul Castellano. With Castellano as boss a defining change with soon come in the form of a ban and any violation would be punishable by death! No drug dealing in the family, PERIOD!!
This ban created tremendous dissatisfaction within the family, especially younger capo's such as John Gotti, who were already struggling under the Castellano regime. However, despite any dissatisfaction among Dellacroce and his underlings out of respect for Dellacroce no one rebelled… yet! Unfortunately, once again, in early 1985, Dellacroce was indicted along with other leaders of the New York families as part of a Mafia Commission Investigation. Also, Dellacroce was indicted on federal racketeering charges regarding the activities of two crews in the New York and Long Island area over the previous 18 years.
However, by this time Dellacroce was already very sick and would not live to attend either trial. On December 2, 1985, Aniello "Neil" Dellacroce died of brain cancer, at the age of 71. He was buried at St. John's Cemetery in Queens. Adding insult to injury, Castellano neither visited Dellacroce when he was sick or attended his funeral. These actions would set in motion a chain of events that would eventually lead to Castellano's murder two weeks after Dellacroce's death.
From there, John Gotti took over and the rest they say is history!
Comments or questions are welcome.