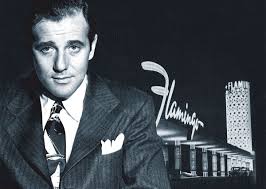 By Marla Eggar
The glitz and glam of Hollywood is hard to resist. This was particularly true for mobster Benjamin Siegel known as "Bugsy." The notorious and iconic mobster was born on February 28, 1906 in Williamsburg, Brooklyn New York. In his youth, Siegel was known as a street thug and rose through the ranks to become a feared murderer, bookmaker and Hollywood playboy. Siegel was not only prominent in the Jewish mob, but with childhood friends like Meyer Lansky and Lucky Luciano he had influence in the Italian mafia as well. Siegel was part founder of another organization known for its muscle and violence, Murder Inc. While Siegel was linked to several high-profile murders, his only conviction, was in Miami, when he was arrested for gambling and vagrancy. It's believed that Siegel played a role in around a dozen killings during his rise in the 1920s and 30s.
Once an assassin tried to murder him by lowering a bomb down a chimney. Injured, Siegel checked himself into the hospital and then allegedly snuck out and murdered the man, only to later slip back into his room, alibi intact. Siegel is also reported to have been one of the men who gunned down Sicilian mobster Giuseppe "Joe the Boss" Masseria in 1931. In the mid-1930s, Siegel moved from New York to Los Angeles and expanded the mobs criminal empire on the West Coast.
Siegel became a fixture in the Hollywood social scene.His tough guy persona and good looks made him alluring to celebrities the likes of Cary Grant, Frank Sinatra and Jean Harlow, who later became godmother to his young daughter. Friends would later say that Siegel secretly desired to be an actor and once even organized a screen test for himself. In 1946, Siegel tried his hand at real estate.
This venture is why he's often accredited for creating the Las Vegas Strip, which is somewhat inaccurate. You see, it's true that he took over construction on a Las Vegas hotel and casino (that later became known as the Flamingo) with financial backing by Meyer Lansky and several other underworld figures. However, at that time there were already several casinos and hotels in operation before the construction of the Flamingo.
Siegel simply added luxury and glamour. Although, the word "simply" is an understatement. The project was projected to cost around $1 million. However, the total cost was around $6 million. To make matters worse, the project lost money during its first few months in operation. In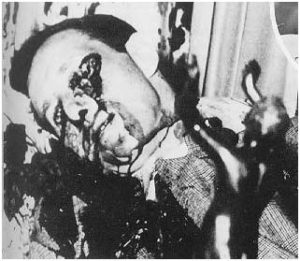 time, business gradually picked up and became the mobs first major foothold in Las Vegas. Unfortunately, Siegel wouldn't be around long enough to see his dream flourish. In June of 1947, Siegel was murdered.
Years after Siegel's death, there have been theories about why he was murdered. Nevertheless, it is commonly believed that Siegel was murdered while reading the newspaper at his girlfriend Virginia Hill's Beverly Hills home. The gunman fired nine shots through a window with a .30 carbine. Siegel was hit by four bullets, one of which knocked his eye out of its socket. The precise motive for the killing has never been confirmed. Most researchers speculate that Siegel's mob associates were fed up with the soaring cost of the Flamingo Hotel and Casino, while others say he was suspected of stealing money from the construction budget.
The identity of the shooter is also cloaked in mystery. Mob figures Frankie Carbo and Eddie Cannizarro are among the leading suspects, but the case remains open to this day.
Comments or questions are welcome.