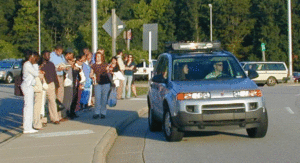 By Tatiauna Miller
Throwing up my sign! I need a ride!
In the DMV area we have several commuting options: buses, trains, van pools and Slug lines! Slug-lines are a free commuting option which allows people to pick up passengers from designated locations and during rush-hour to use the 95-395 North HOV (High Occupancy Vehicle) lanes to DC.
Slug lines started in the DC area over 40 years ago in 1975! A 40 year old, free transportation system is bound to have some rules, because you know people have zero common sense.
Slugging has about 20 rules or "Slugging Etiquette", most of these are the same rules you had when you were a little kid riding in the car with your grumpy older sibling. Here are a few:
– No eating or drinking in the car! Don't you know how hard it is to clean up bacon, egg and cheese biscuit crumbs!
– Slugs do not talk: Seriously, no need to make awkward conversations at 6:30am or at 4:30pm. No one cares!