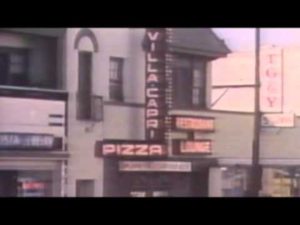 By Larry Henry
"Stayin' Alive."
That Bee Gee's disco song could have been the anthem — or at least the goal — of the mob hitmen and car-bombing killers at war in Kansas City in the 1970s.
Much of the mayhem was centered on a now-defunct but then-lucrative downtown entertainment district, the River Quay (pronounced River Key).
Control of that district resulted in a high-stakes mob war with bodies stuffed in car trunks and with nightclubs and automobiles blown sky high.
The violence also led to an explosive revelation: Hoodlums operating inside Las Vegas casinos such as the Stardust were skimming hundreds of thousands in untaxed gambling winnings and delivering the stolen cash to Midwest Mafia bosses in places such as Kansas City and Chicago.
Mob heavies felt they were owed those illegal deliveries for helping secure the Teamster loans that built Sin CIty's large neon-lit casinos.
Kansas City was ground zero in the explosive revelation. And the disco tune "Stayin' Alive" played a role in that part of the drama. ("Feel the city breaking and everybody shaking …")
As Mafia expert Gary Jenkins explains it, law enforcement authorities investigating a mob murder plot in Kansas City planted a listening device in a pizza place, the Villa Capri, frequented by crime boss Nick Civella's crew.
Jenkins, an attorney and former detective with the Kansas City Police Department Intelligence Unit, now operates the popular ganglandwire.com website and podcast. In the '70s, he often was assigned to track mobsters and stake out the Villa Capri.
Hoping to hear about local organized-crime murder plans, federal authorities listening in on back-table mob discussions at the Villa Capri in June of 1978 picked up unexpected tidbits about Las Vegas.
As they began piecing the puzzle together, authorities were able to learn that money skimmed from Las Vegas casinos wound up more than 1,300 miles away in the hands of gangsters like Nick Civella.
Some of the Villa Capri discussions were difficult to hear, according to FBI agents, because a jukebox blaring "Stayin' Alive" made eavesdropping somewhat problematic.
But enough came through there, and later at other surveillance locations, to blow up the skim and ultimately convict some of the leading Mafia figures operating during that period in Las Vegas, Kansas City, Chicago and elsewhere.
The connection between mobsters in Las Vegas and Kansas City is explained in the 1995 true crime book "Casino" by Nicholas Pileggi and resulting blockbuster movie. Jenkins is mentioned by name in the book.
I recently spoke with Jenkins in person about the Villa Capri and posted a brief video interview with him on my YouTube channel.
The building that housed the Villa Capri no longer exists, but Jenkins has a map on his website that pinpoints mob locations around Kansas City, including the old Villa Capri location at Independence and Prospect avenues. He also has mob-site maps on his smartphone app, "Kansas City Mob Tour."
Jenkins, whose feature-length documentary film "Gangland Wire" explores the Las Vegas/Kansas City connection, also recently published a book, "Leaving Vegas," that delves into the surveillance recordings and a lot more.
The "Gangland Wire" documentary contains actual audio from the Villa Capri and other wiretap operations. Jenkins even incorporates a snippet from the then-popular disco song "Stayin' Alive," which, to those who made it through that era in one piece, is a true blast from the past.
Larry Henry's YouTube channel includes videos he shot of mob sites in Las Vegas, the apartment building in Santa Monica, California, where Whitey Bulger was arrested, and the remote Arkansas airport where Barry Seal transported drugs into the U.S for the Medellin Cartel. Subscribe HERE
Comments or questions are welcome.