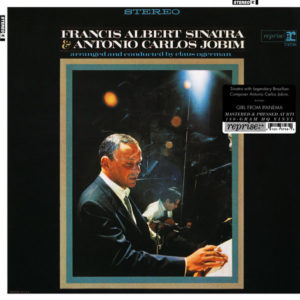 By Jerry Pearce
Hello fellow Sinatra lovers, and welcome to another (long overdue) edition of the column.
In today's market, if you blink, you'll probably miss some important item on the music market. Artists of the present day are churning out so much material between physical compact discs and digital downloads that it may be hard to keep up with the trends. Luckily, when it comes to the material of our favorite singer, the Sinatra estate and its advertising division keep fans of our beloved vocalist well aware once a new product is about to hit the shelves, and since my last visit with you all here at "The Sinatra File," two new related titles have been released, both of which I was able to listen to and review.
First off, as mentioned in a few previous columns, February marked the fiftieth anniversary of the first legendary collaboration between Frank Sinatra and the revered father of the "Bossa Nova" style, Antonio Carlos Jobim. To celebrate, Sinatra Enterprises has re-released the album (Francis Albert Sinatra & Antonio Carlos Jobim) on both compact disc as well as a special album release featuring blue colored vinyl. Owing to the vinyl craze as of late, this LP release is considered limited edition.
Featuring a remastered version of the 1967 album, this anniversary release is complimented by two additional bonus tracks that enhance the overall listening experience. The first bonus track is an audio version of a duet medley between Sinatra and Jobim as seen and heard on Frank's 1967 NBC television special (a special that also featured Ella Fitzgerald). The medley is an exciting trading of vocals between the two musicians, featuring truncated versions of songs from the album they had just made (Quiet Nights/Change Partners/I Concentrate On You/The Girl From Ipanema). The rapport and friendly nature between both singers is fairly prevalent throughout.
Following the medley, another audio treat; more than ten minutes of the studio session while creating the title track of the album, "The Girl From Ipanema." Sinatra fans who enjoy listening to the Chairman build and create a performance in the recording studio will relish over this gem. While several Sinatra recording sessions from the Reprise years have been traded, and sold in the bootleg market over the years, material from the Jobim albums is sparse, making this track all the more rare and appealing to the listener. With a little bit of banter from Sinatra and band members across the studio, the song is run down three times. Interestingly enough, the third run through of the song was featured on an earlier Sinatra release, the 2008 compilation "Nothing But The Best." Playing the song from both releases back to back reveal the performances to be identical. If you haven't purchased the Jobim album before, this new release is the way to go.
The second new release from the Sinatra camp is another compilation of sorts, but given the fact that no juxtaposition of Sinatra's music has been released since the "Ultimate Sinatra" collection of 2015, it is well worth checking out, especially for someone who is looking to discover Sinatra's music beyond his greatest hits collection.
Released two days before the anniversary of Sinatra's untimely passing on May 12th, this new compilation is available exclusively for digital download and is given the short title of "Baby Blue Eyes." Featuring a blue tinted photograph of the infant Sinatra on its cover, the twenty-track collection is geared towards songs featuring expressions of love for children, the song listing chosen, according to press release, by Sinatra's daughter Tina herself. The full title of the album, "Baby Blue Eyes..May The First Voice You Hear Be Mine," is a play on Sinatra's oft-quoted toast to audiences at his many concerts, wishing to those in attendance his desire to see them live to be a hundred years old, with the last voice they hear before passing, his.
With Sinatra's recorded catalogs from the companies of Columbia, Capitol, and Reprise now combined into one under the banner of Universal Music Group, it is quite easy to now assemble a comprehensive list of tunes for compilation, and this new release is a good example of that, tunes here picked ranging from recordings of the 1940s straight through to the late 1970s. The track list below is as follows:
Yes Sir, That's My Baby
Ain't She Sweet
It's A Wonderful World
Isn't She Lovely
I've Got My Love To Keep Me Warm
Pocketful Of Miracles
I Believe
It's Only A Paper Moon
High Hopes
Jeepers Creepers
Pennies From Heaven
How Cute Can You Be?
A Baby Just Like You
Bein' Green
Hush-A-Bye-Island
Fairy Tale
Young At Heart
Dream
Put Your Dreams Away
Cradle Song (Brahms Lullaby)
Sinatra fans will undoubtedly recognize the broad scope of time interspersed between the recordings, and through that, can see why this collection will be appealing to newcomers of the Sinatra sound. Make both of these new releases apart of your audio library on your iPod or iPhone right now!
Until next time, Sinatra lovers!
Jerry Pearce is an amateur singer in the vein of Frank Sinatra, Perry Como, and Dick Haymes and has released two discs of standards music, Crossroads in 2010, and One Summer Night in 2016. Samples of his music can be heard on his YouTube Channel. To purchase his CDs use the form box below.
Comments or questions are welcome.