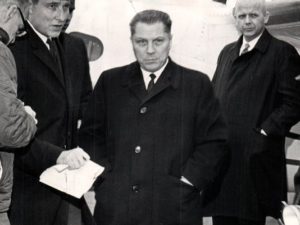 By Larry Henry
Every July, the same two mob-related questions pop up:
Who killed Jimmy Hoffa?
Where is he buried?
Though there is plenty of speculation, no one has uncovered the definitive answer to either question.
A lot of people you come across on a day-to-day basis know the basics of the Hoffa saga, that he was a corrupt, mobbed-up ex-Teamsters head who disappeared in the summer of 1975, presumably killed by underworld figures.
After serving time in prison, and already into his early 60s, Hoffa was trying to regain power in the union when he vanished.
For 40-plus years the national running joke has been that Hoffa's remains were buried in Giants Stadium in New Jersey just west of New York City.
From time to time, you'll still hear late-night comedians joke about that, even though the stadium was demolished seven years ago, and nothing ever turned up.