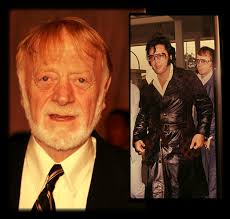 By "Bad" Brad Berkwitt
Red West, a popular actor from the 70's through present day who was also a longtime and sometimes critical confidante and bodyguard of Elvis Presley died Tuesday night after suffering an aortic aneurysm at Baptist Hospital.
He was 81.
Born in Bolivar, Tennessee, the athletic Robert Gene "Red" West befriended Elvis at Humes High School, where the 6-foot-2 redhead protected the smaller pre-fame Elvis from bullies on at least a couple of occasions, according to Presley lore. He worked for Elvis for some 20 years, occasionally taking small roles in such films as "Flaming Star" and writing or co-writing such memorable Elvis songs as the 1972 hit "Separate Ways," the holiday favorite "If Every Day Was Like Christmas" and the 1975 masterpiece of infidelity, "If You Talk in Your Sleep," recorded at Stax.
West also composed or contributed to songs recorded by other artists, including Ricky Nelson, Pat Boone and Johnny Rivers.
NewzBreaker extends our condolences to the West family in their time of grief.
[si-contact-form form='2′]