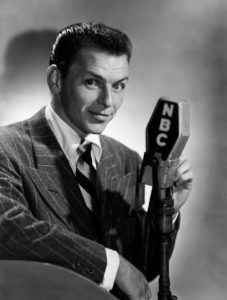 By Marla Eggar
In an earlier article, I wrote about Frank Sinatra and his underworld connections. Fascinated by Sinatra's charisma and an admirer of his work I bought J. Randy Taraborrelli's book Sinatra Behind the Legend. Despite the fact that I'm only midway through I have to admit Sinatra lived an inspiring life. Placing the mob aspect on hold for now, Sinatra himself was brazen in a lot of ways. He stood up for injustices when there was no benefit in doing so, took charge of his career all while making bold strides along the way. The fact is, with every step Sinatra could've been risking more than his reputation, but his career.
For example "The House I Lived In" a short film made in 1945 starring Sinatra was a valiant move on his behalf against racism and while it may be corny by today's standards, I thought it was courageous! The Rat Pack is another example of Sinatra's gutsy personality. I first became a fan of The Rat Pack back in 2000 BC (before children) and actually I was attracted to the groups moxie more than anything.
They defied misconceptions set by racism and became an iconic symbol of refinement and composer … overlooking the womanizing and drinking of course. In addition, when it came to Frank's artistic ability he was just as ambitious. Here's an interesting story for the readers of my column who love all things MAFIA. When Sinatra was in his mid 20's, he signed an indentured servitude contract with bandleader Tommy Dorsey. Dorsey demanded that Sinatra pay him one-third of his earnings for life and an additional 10 percent to his agent.
In other words, Sinatra was getting screwed without the courtesy of a reach around! However, in 1943, Sinatra's representatives tried to get him out of the contract by offering Dorsey $60,000 to toss it out. Dorsey, who had a reputation for being persistent, refused. Sinatra's godfather, Willie Moretti, convinced Dorsey to see the light or the barrel of an associates gun whichever story you want to believe.
Rumor has it he turned down 60 grand, but settled for one dollar – far from a pimp decision if you ask me, but I digress. This story is so impressive that Mario Puzo decided to retell it in the 1972 movie The Godfather. Unfortunately for Puzo, Sinatra was not impressed with the Jhonny Fontane character. In a New York magazine article Mario Puzo wrote that Sinatra hated him, because he believed the lounge singer character Johnny Fontane was based on him. Reportedly, later down the line a mutual friend introduced the two men at a restaurant in Los Angeles. There Sinatra cursed Puzo out. Puzo stated "I remember him saying that if it wasn't for me being so much older than him, he would beat the hell out of me."
Obviously, Sinatra had a temper, but regardless of how it went down he was a better person because of it. Another element of Sinatra's life I found interesting was his stance on religion. In a 1963 interview with Playboy, he states, "I don't believe in a personal God to whom I look for comfort or for a natural on the next roll of the dice. I'm not unmindful of man's seeming need for faith; I'm for anything that gets you through the night, be it prayer, tranquilizers or a bottle of Jack Daniel's. But to me, religion is a deeply personal thing in which man and God go it alone together, without the witch doctor in the middle." I'm perplexed and intrigued by that comment.
Personally, I believe the anthem of his life the 1969 hit "My Way" summarizes his overall feelings about religion if not life itself, which I respect and admire. Frank Sinatra is one of a kind. He's a pleasant reminder of Hollywood's Golden Era and a man who became more somber and thoughtful with age. This is a man who reestablished himself intentionally guiding his own career while rising above scandals, hypocrisy and personal affliction.
For that I personally applaud the "Chairman of the Board" and Ol' Blue Eyes himself Frank Sinatra, salute!
[si-contact-form form='3′]