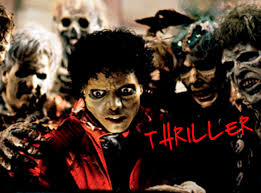 By Anne Goetz
"Thriller" fans may be in for a treat in 2015, if director John Landis reincarnates the Michael Jackson ground-breaking music video as a 3-D release in theaters and on DVD.
While talks are still in the early stages, the lengthy court battle between Landis and MJ's estate over the 14-minute video are apparently over, and Landis now plans to move forward in bringing "Thriller" to the big screen, DVD and possibly Blu-ray.
There have even been rumblings of a video game in the works sometime in the near future. Though nothing is apparently set in stone.
According to the New York Daily News, sources close to Jackson say this was the plan all along, but that the iconic singer died before his dream could be realized.
NewzBreaker is NOW Hiring Entertainment Writers