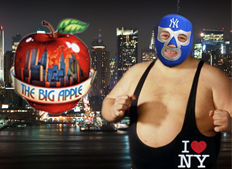 NewzBreaker Press Release

The Big Apple is BACK! Reports circulated a few years back said he was dead, but NewzBreaker is elated to announce that he was just taking a break from banging and slamming from the wresting rings that saw him win the BGA Heavyweight Championship of the world twice. Big Apple, now 65, is retired and living in Appleseed, Indiana enjoying time with his wife Tessie and his five grandchildren who he calls his "little appleseed's". NewzBreaker's very own CEO/Publisher "Bad" Brad Berkwitt recently paid a visit to the Big Apple's house and came back with a signed exclusive deal where he will now be writing exclusively for NewzBreaker.com. Look for his great insight into the sport of wrestling and many of his famous wrestling buddies will bring him inside scoops that no other website will have.
On behalf of the entire team at NewzBreaker, we welcome this wrestling legend, Big Apple, to our ranks.