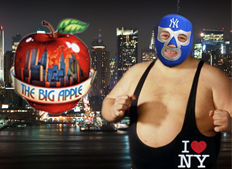 By Big Apple
Hello out there my appleseeds. With my recent hiring by NewzBreaker.com and that man's man, "Bad" Brad, I figured I would jump right into my first column apples first.
Hulk Hogan that has been is in the news once again. Years ago, I heard the rumors like so many of you did that he did the beef jerky dance with Brutus Beefcake, but we all were on so many drugs, who really knows what was what.
With my close friend Ultimate Warrior going into the 2014 WWE Hall of Fame where I will be front and center, of course Hogan tried to grab headlines saying now he is a good man. But years ago, he called him an "assclown" as reported by TMZ. What man calls another man an assclown unless they were checking out his six?
Hogan, will never admit this, but I body slammed him in an unsanctioned match back in 83 right after he made Rocky III. Thunder Lips as he was called, cried like a baby because my patented move, "The Appleseed" put him in the hurt locker like he never felt before. He asked me to keep it quiet because he felt it would hurt the movie that was his ticket into Hollywood. It's been 31 years now, so time to tell the wrestling fans the truth.
Until next time,
Big Apple