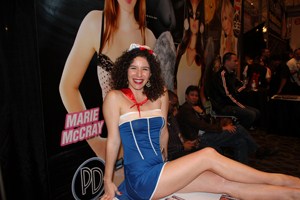 By "Bad" Brad Berkwitt
Photos by S. Waters (Copyrighted by NewzBreaker)
Sativa Verte would give Cher a run for her money, in her Sailor outfit, if placed on the same ship she shot her music video for If I Could Turn Back Time. Verte, actually pulled double duty when she worked the 2013 AEE Expo and then the Red Carpet for the AVN's. I was quite impressed with her interviewing skills and total comfort behind the camera.
She defiantly has a career in covering media events if she decides to move on from adult movies.
NewzBreaker readers, check back for SHOCKING pictures/coverage of the AEE Expo and Red Carpet for the AVN's are going up now…