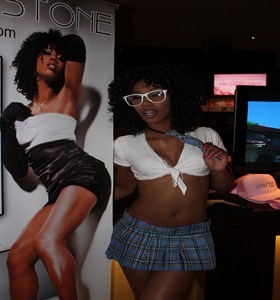 By "Bad" Brad Berkwitt
Photo by S. Waters (Copyrighted by NewzBreaker)
Adult movie performer Misty Stone worked her booth at the 2013 AEE Expo at the Hard Rock Hotel and Casino with lots of moxy that had a constant line forming for pictures and chat. At one point, she was interviewed by a French TV show where the young female host asked her to spank on her camera! Misty took to her ass, like it was second naturem smacking it hard, while it looked like the French host, was cumming in her dress.
NewzBreaker readers, check back for SHOCKING pictures/coverage of the AEE Expo and Red Carpet for the AVN's which are going up now…