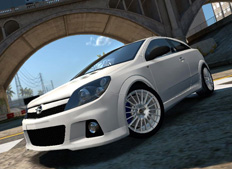 Today Eutechnyx, one of the leading independent racing game studios, announced the first stage of an update to the progression system for their online racing game and car community Auto Club Revolution. Joining the car rental system that launched recently, Eutechnyx will be adding to this by making many more cars available for free. As well as this, the Auto Club Revolution team will launch a revamp of their special community events, giving players opportunities to earn extra Credits every day.
More variety, more cars, more racing! Auto Club Revolution is restructuring its progression system by making many more cars available for Credits. Credits are the in-game currency which players can earn by racing and completing challenges. Currently, at every 5th Rank players are rewarded with a free car from the next available car Class. While this means players can regularly enjoy receiving a free car as they progress through they game, it doesn't give them as much freedom to decide which car they race with.
With the new progression update, at every 5th rank players will unlock a selection of cars to buy for Credits from a specific car Class. These include such prestigious models as the Koenigsegg CCX, McLaren F1, Corvette ZR-1, Jaguar XFR and the newly released Volvo S60, with more to follow in the future. Players that have unlocked cars in the current progression system will keep their cars forever– so they will still have plenty of time to get their hands on the free cars currently being given away!
But that's not all! On top of a selection of cars being available to buy for credits, players will also receive free gifts as new Ranks are achieved, including:
Free car rentals of cars in classes above the player's current rank.
Gifts and rewards to help players as they progress through the game.
The community can get involved in the new progression model by voting for which EX Class car should be made available to buy for Credits in the official forum and Facebook page.
Joining the progression system update is a revamp of the community events schedule which gives players regular opportunities to win free credits through competitions, promotions and events like Race Nights, Double Credit sessions, Power Hours and Community Challenges.
Auto Club Revolution is a free-to-play online racing game and car community built in collaboration with the motor industry. Featuring officially licensed cars from over 50 of the world's leading motor manufacturers, it delivers a console quality racing experience to the free-to-play market while providing a social platform for owning, customizing and enjoying cars online. The game features a wide range of custom and licensed race tracks including Silverstone, Circuit de Spa Francorchamps and Hockenheimring.
Players can register and play at www.autoclubrevolution.com try any of the new features and cars available.