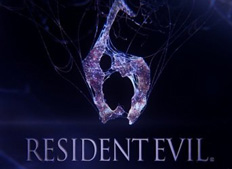 Capcom, a leading worldwide developer and publisher of video games, is very proud to announce that the highly anticipated Resident Evil®6 is available to purchase across retail outlets throughout North America and Europe from today for the Xbox 360® video game and entertainment system from Microsoft and PlayStation®3 computer entertainment system. A Windows PC version will follow in the coming months.
This latest addition to the multi-million selling franchise has already wowed critics receiving review scores of 9 out of 10 from PlayStation The Official Magazine (North America), Xbox 360 Magazine Ufficiale (Italy), Playstation Magazine Ufficiale (Italy), 9.3 out of 10 from PlayStation Revista Oficial (Spain) and 39 out of 40 from Famitsu (Japan).
Featuring four distinct, yet interwoven campaigns, Resident Evil 6 delivers terror on a global scale with the action moving from North America to Eastern Europe and China as the game's seven main protagonists face a new horror, the C-virus, which threatens to wipe out the entire world's population.
Launching alongside the game is ResidentEvil.Net, a free web-service designed to enhance the Resident Evil 6 experience and bring together players from around the world. View all your game statistics and those of your friends, receive updates via your mobile device or social networks, plus compete in events with the chance to win in-game prizes.
"With its four campaigns offering both single and co-op play either online or offline plus additional modes such as Mercenaries and Agent Hunt, Resident Evil 6 is the most ambitious and comprehensive title of the series," commented Michael Pattison, Senior VP Marketing, North America and Europe, "Furthermore the promise of post release content and ResidentEvil.Net show Capcom's commitment to support RE fans for many months to come."
Since the landmark release of the first Resident Evil® videogame in 1996, the franchise has firmly established itself as a truly worldwide entertainment brand and mainstay of contemporary culture with a series of live action movies, CG anime, manga, novels and numerous merchandising lines. To date the Resident Evil® series of videogames has achieved global sales of over 50 million units.