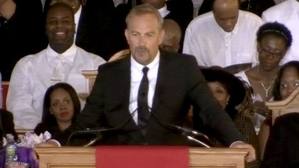 By Danny Allen
Hello NewzBreaker readers. Last week I wrote my recollections of superstar singer Whitney Houston whose light burned out far too quick at the age of 48. As I sat out on my terrace overlooking the Biscayne Bay, I watched as I am quite sure, most of the world did Whitney's Coming Home ceremony. There were prayer hymns, wonderful singing and moving tributes, but none more than the one that actor Kevin Costner delivered .
It was very moving, well written and a look at a rare side of a talented actor that showed all of the humbleness I actually knew about for several years….
In 1986, one of my dearest friends for years actor Charles Martin Smith, who went back with me since 1973, when we first met on the set of George Lucas' directed movie American Graffiti was working on THE UNTOUCHABLES. It was a film that would go on to be a classic that brought Sean Connery, his first well deserved Oscar. Brian De Palma directed and I actually did some press work for his 1980 movie he also directed, DRESSED TO KILL, so we also had a history.
Charles called me during the late summer of 86 and said, " 'Moxie Man' you must come to the set so you can see some of the acting Kevin Costner is doing, who I think is going to be the next big movie star on the scene." Coming from "Smitty", as I called him, an accomplished actor in his own regard, made his comment have merit. I arrived on the day they were shooting the scene in the church between Kevin and Sean Connery, which happens to be one of my favorite scenes in the movie.
When De Palma yelled cut, "Smitty" grabbed Kevin by the arm and raced towards me. We were introduced and Kevin had a firm handshake, and a great sincere smile. "Smitty" like many others, of course, told the Errol Flynn Story and yet another actor, (Costner) was a fan of Errol's. De Palma saw a group forming and didn't realize I was on the set. When he came over, he bear hugged me and told his crew, take an hour, we are going to lunch. Off Kevin, "Smitty", Brian and I went in his limo to eat.
For the next hour, Kevin sat there listening to stories that "Smitty", Brian and I, shared, all the time, asking great questions and soaking in any and all acting advice we could give. He was very humble, and even offered to pick up the tab, but of course, De Palma wouldn't allow that. At the end of our lunch, Kevin and I had bonded, exchanging numbers.
For many years after our first meeting, Kevin and I have stayed in touch with him still being that humble person I met some 26 years ago. So when the rest of the world praised his eulogy at Whitney Houston's funeral last week, I just smiled because the class act that I have known Kevin to be way away from the glaring lights of a movie set, shined through.
To my friend Kevin, from the old Yenta "Moxie Man", job well done…