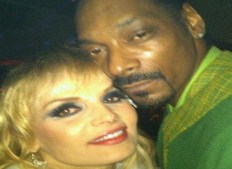 The legendary Snoop Dogg has written an original song for the soundtrack for acclaimed director Erica McLean's upcoming release through LFP Video, " Riding The Flying Pink Pig" (Cheeky Monkey/LFP).
Snoop Dogg met McLean at the recent Players Ball in Hollywood thru their mutual friend Bishop Don Juan. Mclean is a recieptient of the "Pimpette Of The Year" Award, and "Producer of the Year" at The Players Ball last year.
"I love Snoop, he's my Earth Angel", replied McLean. "We really hit if off from the start, and he graciously took time from his busy schedule to sit down and put together this song in just one night, before he headed to Australia for his upcoming appearance there".
"I dig Erica's movies, I believe in her and her vision, and I wanted to be a part of what she was doing", stated Snoop Dogg.
This exciting new movie release also includes music from Mack 10, and YG $oprano.
"I'm so happy to be back working with Hustler, and I'm sure that the fans will love this new movie release", added McLean
McLean's "The Flying Pink Pig 2" have been nominated for Best Overall Marketing Campaign – Individual Project. The Flying Pink Pig's theme song "Thinkin' 'Bout You" is also up for Best Original Song.
The first film courted controversy and made national headlines over a dispute with the owner of the actual food truck used in the film, who claimed he was unaware of the film's adult content.
The new chapter in the food truck caper is much more colorful, has more sex scenes with greater intensity, with co-stars Sunny Lane, Andi San Dimas, Nicki Hunter, Sasha Heart, Cytherea, Tessa Taylor, Billy Glide, Liz Taylor, Victoria Larsen, Marco Banderas, Seth Gamble, Danny Mountain, Mr. Marcus, and Ron Jeremy reprising his role as the villainous rival.
"I'm proud of it, we had such a great cast. The production was essentially a lot of fun sprinkled with hardcore sex. We took it to a whole new level" said McLane.
Follow Erica McLean on Twitter: @ericamclean
Riding the Flying Pink Pig sales information: David Diamond at LFP Video, ddiamond@lfp.com or 818.812.9519 x203
For more information, or to arrange an interview with Erica McLean, please contact James Bartholet at Galaxy Publicity 310-652-0770 or james@galaxypublicity.com
About Erica McLean
One of the top working female directors in the industry today, Erica McLean created the iconic "Barely Legal" and "Hot Showers" franchises with her husband Clive. She then branched out to develop her own style as an auteur with her company Cheeky Monkey Productions, crafting imaginative releases such as "Alice" starring Sunny Lane, and "Hardcore Circus." Her gourmet food truck feature "The Flying Pink Pig" courted controversy and made national headlines.