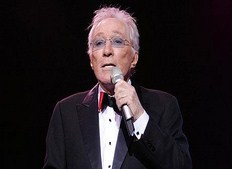 By "Bad" Brad Berkwitt
Legendary crooner Andy Williams' marketing director says his treatment for bladder cancer is "going really well." Kathe Hill said "Williams, who turned 84 last year, still plans to take the stage this fall with a host of guest stars to celebrate his 75th year in the entertainment industry.
He has so much he's looking forward to this year. He has every intention of celebrating his 75th year in show business."
NewzBreaker continues to wish Andy Williams a speedy recovery….