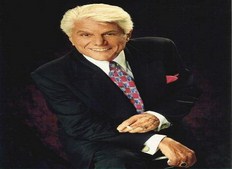 Exclusive Interview by "Bad" Brad Berkwitt
Photos: Personal collection of Frankie Randall
"Frankie Randall is, without a doubt, one of the brightest men in the business!"—Julius La Rosa
"Frankie Randall is a consummate performer. He is an exquisite jazz pianist and a wonderful singer. I had the great pleasure to work with him on the Dean Martin Show and I'm very proud to call him a friend."—Lainie Kazan
Singer Peter Gabriel had a hit song in the 1980's titled BIKO which was about Steven Biko, a man who fought against apartheid in South Africa – ultimately costing him his life. In BIKO, there is a line Gabriel wrote that goes – "you can blow out a candle, but you can't blow out a fire." This is such a great metaphor and one that defines singer Frankie Randall. He worked for years because he had that "FIRE" in his soul that would take him from Passaic, New Jersey to stages around the world meeting an Icon he respected who was in the same business and was the legend himself, Frank Sinatra.

Randall and Sinatra would go on to become close friends. So close that the Chairman of the Board put a word into the big shots at RCA Records and next thing, that hard working young man from across the river from NYC, had a recording contract. The rest is history….
Frankie sat down with NewzBreaker for this exclusive interview and talks about his career, Frank Sinatra and much more…
NB: First off, let's catch up the NewzBreaker readers on what you are doing today.
On December 17th, I will be the special surprise guest at the McCallum Theatre in Palm Desert California in a Christmas Spectacular with the Desert Symphony. I also work primarily in Performing Art Centers and casinos throughout the US and overseas as well which I did a few years back in Italy.
NB: You were born Frank Lisbona in Passaic, New Jersey, but went on to become famous as Frankie Randall. How did you come up with Randall for a last name?
It was actually a combination of reasons. It was a day and age when singers like Frankie Avalon, Bobby Rydell, and Frankie Valli were on the scene and we all changed our names because the industry wanted you to have that American sounding – American look for pop singers. I basically believe it or not, picked it out of a hat and liked the sound of it.
NB: As a young man growing up in New Jersey, briefly tell the readers how it would mold you to want to become a singer and pianist as a young adult.
I actually just wanted to be a Jazz Pianist and at the age of 7, I started studying classical piano. Then when I was in high school, I really got interested in Jazz following artists like Oscar Peterson and George Shearing. However, there came a time when a jazz trio or quartet such as ours had a hard time finding work unless somebody sang. So I just started singing I guess because I had a lot of nerve. From then, I became primarily a singer, but I actually consider myself more of a musician.
New Jersey as a state has had some amazing talent come out of it from Frank Sinatra to Bruce Springsteen to Queen Latifah. I really think it's a great breeding ground for not just musicians, but actors as well…. To this day, my kids and grandkids are still there along with several friends – so I really stay connected with NJ.
NB: In the 1960's you recorded several albums and singles on the RCA label. How did you wind up with a contract with them?
One night when I was working at Jilly's Restaurant in New York City, there were some very influential people with RCA Records and also, Frank Sinatra was there that night as well. They went over to talk with Frank (Sinatra) and he put in a very kind word for me. The next thing you know, I got a call from an Agent who knew these people (RCA) who said, "I think we have a deal." From there, I started recording for them…
NB: During the same timeframe, you starred in what would be Sonny and Cher's first movie Wild on the Beach (1965) playing Adam Miller opposite Sherry Jackson who was famous for being on the Danny Thomas Show. What was it like shooting the movie?
(Big Laugh) That was the first movie I ever did and couldn't believe I was the star of it. It was so long ago and to give you an idea, nobody knew who Sonny & Cher were when they walked on the set. They went on to become big stars. I was very close to Sonny and helped him to get elected. He was a very nice man.
NB: Several years later, you also acted in Day of the Wolves (1973) with Richard Egan. How come you didn't pursue acting further?
There wasn't that much work for me and most actors have an agent who is in the film industry which concentrates in that area. I wanted to primarily perform as singer/play piano. Acting was fun and it's great when you get done with it and watch it on the screen, but there is a lot of time where you just sit around and wait for them to set up cameras and scenes. It's not as exciting to shoot as it is to see the finished product on the screen.
NB: Your resume is chalk full of impressive credits, but one really stands out in your singing career and that is appearing on Dean Martin's TV Show several times and in his absence, hosting the summer version. Years back, I interviewed Lainie Kazan who said," We (Dean) had amazing chemistry. I loved him so much. He was the most delicious, generous and so funny – funnier than Jerry Lewis to me." What are your thoughts of Dean?
I LOVED Dean Martin! The first time I did his show; he just made me feel so comfortable which he did with everyone who came on. He was so laid back and was a real gentleman. I am still until this day, friends with his daughter Deana Martin and we perform together in "That's Italian."
Dean was so funny and he could do the same things over and over in his act – you knew they were coming, but he always made you laugh….
NB: It's no secret you were very close to Frank Sinatra who anyone will tell you was my Dad's favorite singer of all-time and passed it on to me as well. We could talk probably for years with your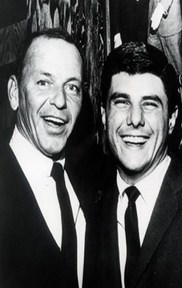 stories, but is there one story you have never shared before about Frank that you can with the NewzBreaker readers?
Honestly, Brad, there are so many stories with Frank, but they have been told many times over. I will say this… If Frank Sinatra was your friend, there was nothing he wouldn't have done for you.
NB: From your perspective, and I will not name the singers they do it with, but what goes through your mind when you hear them say, "So and so is the next Frank Sinatra?"
There will never be another Frank Sinatra. I think it's like there is one Albert Einstein, one Picasso and one Frank Sinatra. People are always looking for the next Sinatra and its not coming!

NB: For several years, you left performing and were the Vice President of Entertainment at both the Golden Nugget Hotel and Casino and Bally's Grand Hotel and Casino. What did you enjoy most about this line of work?
I got a kick out being able to provide entertainment for customers at both places I worked. Both hotels allowed me to spend a lot of money on bringing in acts on their behalf. It was a lot of fun….
NB: In all of your years of performing, what is the one night, where you thought to yourself, "I truly nailed it?"
I actually have a couple of them, but whenever I can really connect with the audience when you really feel it, that is nailing it for me.
NB: I am sure some will be slighted by this comment, but I feel today, there are very few amazing songwriters such as Cole Porter, George & Ira Gershwin, Irving Berlin, and Sammy Cahn & Jimmy Van Heusen to name just a few. Why do you think that you see that kind of depth in songwriting talent today in the music industry?
I really can't answer that one, but I agree with you totally. The music today really doesn't interest me for the most part, but I do like some of the singers that are doing the Great American Song Book like you mentioned by these writers.
NB: What is one thing you can tell the NewzBreaker readers about yourself that very few, if any, know today?
(Big Laugh) I have a 1961 Thunderbird convertible that I bought brand new in 1961. As we speak, it's been refurbished. The car only has 76k miles on it. It's black with a red interior.
NB: Finally, what is the saying you live your life by?
"You do what you gotta do."
Frankie wanted to add to our interview:
Just let your readers know if they see me performing near them, to come on out and after the show, come up and introduce themselves. I also want to thank you for this interview and keep in touch….
You can visit Frankie's website. He personally responds to his email, so tell him NewzBreaker sent you….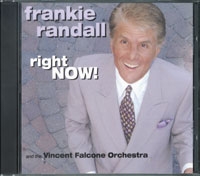 CD Review: Right Now – Frankie Randall – you can purchase the CD here.
For fans of Frankie's you will want to pick this CD up which you are sure to enjoy. Great arrangements and FR is in great voice. For the Al Pacino fans, you must listen to my favorite track, The Lady Is A Tramp… This CD will make a great stocking stuffer for Christmas…
The Best is Yet to Come
All or Nothing At All
Where or When
I Remember You
The Summer Wind
Slow Boat to China
You Make Me Feel So Young
Get Me to the Church On Time
The Lady is a Tramp
I Love You, Just the Way You Are
You're No Body Till Somebody Loves You
Come Rain or Come Shine
I've Got You Under My Skin
Night and Day