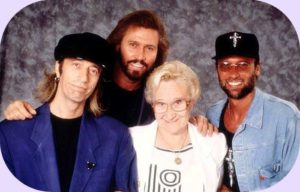 By "Bad" Brad Berkwitt
Sad news to report. Barbara Gibb the loving mother the Bee Gees who were comprised of Barry, Robin, and Maurice has passed away at age of 95 in Miami this past Friday. She was also the mother of Andy Gibb who was a pop star in his own regard and a daughter named Lesley. Sadly MRS Gibb outlived Andy, Maurice and Robin and endured a pain no parent should ever have to go through. For the past 20 years, she lived in Miami, but she was born in Manchester, England on November 17, 1920. Gibb and her late husband Hugh managed their son's early career.
NewzBreaker extends our condolences to the Gibb family in their time of grief…
Comments or questions are welcome.