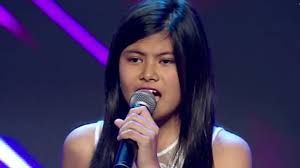 By David Stillwell
Marlisa started the X Factor competition as a shy and quirky 14 year old. She blew the judges away during her audition with her version of the Beatles mega hit, Yesterday. Throughout the competition, she continued to fight her shyness and still managed to put on an excellent show each week.
Enjoy Marlisa's full Audition
The 14 year old Filipino was coached to victory by Ronan Keating and dealt with some harsh, but constructive criticism by some of the judges. What is impressive is that this young girl is so humble. She remains that way, and that is something that is refreshing in pop music. Here are a few of here performances from the X Factor.
Titanium
This Girl is on Fire
Impossible:
I have this feeling that Marlisa is going to rise quickly and remain at the top. She reminds me of the young version of Bruno Mars and as she matures into a superstar the potential for what she can become is endless. This, for me, is a very exciting time for her and pop music.
Congratulations again to Marlisa for winning the 2014 X Factor Australia crown… Well done!