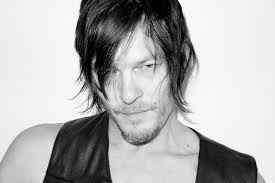 Publisher Note: (NewzBreaker would like to welcome our newest Entertainment Writer, Anne Goetz to the team. Anne brings years of writing experience with her.)
By Anne Goetz
The month of October now holds dual intrigue for fans of Norman Reedus and "The Walking Dead."
1. The series returns on the 12th with nearly everyone of note hopelessly held hostage in the train car.
2. "thanksforalltheniceness: Fan Art From Around the World," the latest book from actor-also-author, Reedus, releases on Halloween.
If you're unfamiliar with the dabbling that AMC's resident redneck, Daryl Dixon, does in the literary arts, you may not know that this is Reedus's second successful foray into the publishing world. His first — a collection of original photographs titled, "The Sun's Coming Up … Like a Big Bald Head: Photographs by Norman Reedus" — released October last, and if you're sensing a theme here, you're right.
It's a spooky, yet satisfying development.
Latest Book by Norman Reedus "thanksforalltheniceness" features artwork from around the planet — renderings sent to Reedus from his more artistic fans. According to BigBaldBook.com, the volume contains over 100 pieces of the most innovative and inspiring works across a vast assortment of media, including:
• Tattoos
• Cakes
• Mosaics
• Digital Art
• Offerings From Kids
And if you're thinking that kids probably shouldn't be watching the sort of fare that pays Reedus's rent, you're on a roll. But watch it they apparently do. And Reedus was kind enough to include their renderings of him in this latest collection.
Norman Reedus Charity
A large portion of the proceeds for "… niceness" are slated to go to The Bachmann-Strauss Dystonia & Parkinson Foundation, Inc, and nice-guy Reedus mentions the how and why on the website:
"A friend of mine has dystonia … a serious neurological movement disorder that causes uncontrollable and, at times, painful spasms in one or more parts of the body … by buying this book, you are truly helping, and I thank you for joining me in shedding light on this important cause." — Excerpted from Norman Reedus, on BigBaldBook.com
So if you preorder now, you'll get more than just a stellar collection of Norman-Reedus-themed artwork, you'll get warm fuzzies too — and who doesn't want warm fuzzies?
New Movies by Norman Reedus
Will Reedus publish more books in the near future? Possibly. But he's pretty well booked-up at the moment as far as work goes. Roles in "Stretch," "Triple Nine" and "Air" carry him well into 2015, and with season five of AMC's "The Walking Dead" premiering in October, Reedus once again proves that, not unlike his alter-ego, Daryl Dixon, he's "a tough son of a bitch."
Thanks for all the biceps … er … niceness? No, thank you, Mr. Reedus.
Thank you.
Sources:
BigBaldBook.com
The Bachman-Strauss Dystonia and Parkinson Foundation, Inc
BigBaldHead.com