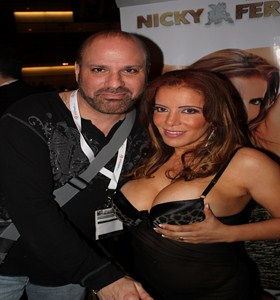 By "Bad" Brad Berkwitt
Photo by S. Waters (Copyrighted by NewzBreaker)
Adult movie performer Nicky Ferrari was one of the many popular ladies at the 2013 AEE Expo at the Hard Rock Hotel and Casino who had fans lined up two deep to meet her.
There was one fan there that had the rest of the people in line laughing until they hit the floor. He claimed he wrote for a website called Youfool.com, and liked to wear Nicky's underwear even though he was so large, he could not fit in them no matter how much weight he told the folks in line he lost. NewzBreaker checked out youfool.com and as expected, it was a fake website. Really? Really? Imagine that! What's next from this assclown? A job where he posts on Myspace he makes six figures a year?
Check back for SHOCKING pictures/coverage of the AEE Expo and Red Carpet for the AVN's which are going up now…