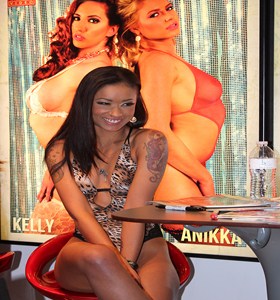 By "Bad" Brad Berkwitt
Photo by S. Waters (Copyrighted by NewzBreaker)
Adult movie performer Skin Diamond a recent NewzBreaker Interviewee was yet another, fan favorite at the 2013 AEE Expo at the Hard Rock Hotel and Casino.
In one of the more personal moments while we were shooting her for NewzBreaker, a couple who had to be in their late 60's, were in line and the husband, was beyond excited to meet Skin. He even broke down the movie and the exact scene which was his favorite. While doing so, his wife took a picture of Skin with him. You could tell Diamond was tickled by this and it just proves, that adult movies cover every demographic in society and that includes, the full of shit people out there that bash it, but yet, watch it all the time!
NewzBreaker readers, check back for SHOCKING pictures/coverage of the AEE Expo and Red Carpet for the AVN's which are going up now…
To read Skin's interview with NewzBreaker, click here.