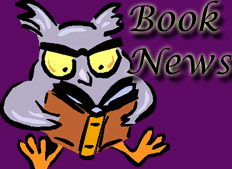 When it comes to holiday fun, the stars of Hollywood's Golden Age knew how to make merry – on stage, on screen, and especially on the dinner table. With Christmas in Tinseltown (HCI $14.95)– the follow-up to his international sensation The Dead Celebrity Cookbook – Frank DeCaro shows how to put the kitsch into your holiday kitchen as he salutes a quirky collection of celebrities who are gone, but fondly remembered every year at Christmastime.
Filled with pop culture ruminations and genuinely delicious recipes, Christmas in Tinseltown pays tribute to such movie classics as It's A Wonderful Life and White Christmas, gives three cheers for such time-honored animated gems as Frosty the Snowman and How the Grinch Stole Christmas, and puts such offbeat offerings as The Star Wars Holiday Special and The Pee-wee's Playhouse Christmas Special in their rightful place – your dining room!
In such chapters as "Miracle Whip on 34th Street," "Eat Meat in St. Louis," and "Munch of the Wooden Soldiers," DeCaro dishes up a smorgasbord of culinary delights that will enliven any holiday gathering.
Tempt your guests with Peggy Lee's Holiday Halibut Casserole, Burl Ives's Stuffed Leg of Goat Hawaiian, Lucille Ball's Brazil Nut Stuffing, Nat "King" Cole's Baked Ham Loaf, Guy Lombardo's Lobster Lombardo, Dick Clark's Spicy Turkey Meatloaf, Rosemary Clooney's Viennese Goulash, Bing Crosby's Sugar Cookies, Shirley Booth's Pumpkin Bread, Dinah Shore's Fruitcake, and Spike Jones's Molasses Jumbles. Then wash them all down with Robert Mitchum's Eggnog, Edmund Gwenn's Christmas Cup, or John Lennon's Hot Cocoa. This star-studded cookbook promises to get even the biggest Scrooge in the holiday spirit and will have you saying your "ho, ho, ho"s in true Hollywood style for many years to come.
About the Author: Best known for his years as the movie critic on The Daily Show with Jon Stewart, writer/performer Frank DeCaro is heard each weekday morning on his own live call-in program, The Frank DeCaro Show on Sirius XM Satellite Radio. The author of the groundbreaking memoir A Boy Named Phyllis, DeCaro's writing has appeared in Martha Stewart Living, Vogue, Entertainment Weekly, and The New York Times. Follow him @frankdecaroshow on Twitter, "like" him on Facebook, and visit him at: www.deadcelebritycookbook.com.
Sample Recipes:
Robert Mitchum 1917-1997
Robert Mitchum was a cool cat and a real Hollywood he-man who became an actor only as a last recourse. He spent much of his early life being what used to be called a "delinquent." His bad boy reputation was hard-won. He was expelled from schools, he did time on a chain gang, he had a nervous breakdown—the man did it all . . . and survived! He took his tough-as-nails street cred and parlayed it into a fantastic career playing prototypical antiheroes in the movies.
He started as a villain in Hopalong Cassidy movies in the early 1940s, then segued into war pictures including 1944's Thirty Seconds Over Tokyo. Noir films came next like Jacques Tourneur's 1947 classic Out of the Past and Don Siegel's 1949 The Big Steal. Holiday Affair was a bit of a switch for Mitchum.
In the 1950s, Otto Preminger cast him as an ambulance driver in 1952's Angel Face; actor-turned-director Charles Laughton gave him the chilling role of a religious fanatic in the 1955 cult favorite Night of the Hunter, and John Huston shipwrecked him with a nun (Deborah Kerr) in 1957's Heaven Knows, Mr. Allison.
Mitchum worked steadily in films throughout the 1960s and '70s. Among his best known works are the thriller Cape Fear in 1962 and David Lean's 1970 epic Ryan's Daughter. He played Philip Marlowe in 1975's Farewell, My Lovely and 1978's The Big Sleep, too. Focusing on television in the '80s, Mitchum made appearances in two miniseries, North and South and War and Remembrance. He also played the role of a police lieutenant in the 1991 remake of Cape Fear. How cool is that?
When asked for a holiday recipe back in 1970, Mitchum offered up his eggnog for a crowd. "I make no apology for the excessive quantity," Mitchum told the food writer who'd requested the recipe. "Only a dope would go to the trouble for less." It'll be perfect for any holiday affair you might throw . . .
Robert Mitchum's Eggnog
12 egg yolks
1 pound confectioners' sugar
1 quart rum, brandy, or whiskey
2 quarts cream
1 quart milk
12 egg whites
½ teaspoon salt
Beat egg yolks and confectioners' sugar together in a large bowl. Beat in the rum, brandy or whisky. Add cream and milk. In a separate bowl, beat egg whites with salt until stiff but not dry. Fold this mixture into the liquid. Chill. Serves 20.
Rosemary Clooney, 1928-2002
Let's get this out of the way first: Yes, she was the aunt of a certain hunk named George. But the most important thing to know about Rosemary Clooney is not that she had a famous nephew who launched millions of carnal fantasies, but that she had one of the greatest voices of the twentieth century.
Singing professionally since her teens, the Kentucky-born singer-actress found fame in the 1950s via a string of novelty hits including "Come On-a My House" and "Mambo Italiano." Audiences adored these funny little songs, but she wasn't nearly as enamored of them. Clooney wanted to be known as the woman who infused standards like "Hey There" with longing, not the gal who sang-a "Botch-a-Me." The woman wasn't even Italian!
Clooney appeared in White Christmas, which would be the pinnacle of her film career, because she knew starring alongside Bing Crosby would lift her career to new levels. (She's quite clear about that in an interview that accompanies the Blu-ray edition of the film.) Help her career it did. Not only did Clooney's star turn as girl-singer Betty Haynes in the 1954 film boost her standing in show business, it established her friendship with Crosby. The two later did a concert tour of Ireland together. And Clooney's appearance on a 1978 TV celebration of Crosby's 50th year in show business is considered instrumental in her comeback.
Sadly, Clooney was coming back from a period that hadn't been kind to her. Diagnosed as bipolar, she had a tumultuous relationship with husband José Ferrer—she married, divorced, and remarried him despite his infidelities. He cheated on her on their honeymoon, as the story goes. Their union produced five children, including the talented actor Miguel Ferrer who first made a splash on Twin Peaks.
Clooney was appearing on behalf of Robert F. Kennedy when he was assassinated. She had a nervous breakdown shortly thereafter. In the late 1960s, she became addicted to pills. Then in 1976, her sister Betty, with whom she'd performed a sister act early in her career, died suddenly of a brain aneurysm. Worst of all, perhaps, Clooney was becoming known as the jingle-singing spokeswoman for Coronet paper towels rather than as a fabulous jazz performer. She recounts all this in two autobiographies, This for Remembrance and Girl Singer. Despite all the words, Publisher's Weekly said she "remains an enigma."
Clooney died of lung cancer at the too-young age of 74. She'd found love, though, with an old friend later in life and she saw the respect of an audience who appreciates the depth of emotion she brought to songs . . . and who continues to adore (sorry, Rosie, we can't help it) those faux-Italian novelty hits she spiced up so many years ago. Here's a dish from another culture of which Clooney was not a part, Viennese Goulash. You were expecting spaghetti and meatballs? Whatsamattahyou?
Rosemary Clooney's Viennese Goulash
2 teaspoons marjoram
1 teaspoon caraway seeds
1 teaspoon finely chopped lemon rind
1 clove garlic
¾ cup butter
1 teaspoon tomato paste
2 pounds onions, sliced
1 tablespoon sweet Hungarian paprika
2 pounds chuck, rump, or round beef, cut into large chunks
1½ cups water
Salt, to taste
¼ cup flour, optional
Using a mortar and pestle, or a small grinder, crush together the marjoram, caraway seeds, lemon rind and garlic.
In a Dutch oven, melt the butter, add the tomato paste and crushed seasoning and stir to combine. Add the sliced onions and, stirring constantly, sauté until golden. Add the paprika and cook for a minute more, stirring constantly. Add the beef, one cup of water, and salt to taste.
Cover and simmer until the beef is tender, about 90 minutes. Add more water during cooking, if needed. Before the goulash is done, add another half cup of water and bring the sauce to a boil. If more sauce is desired, sprinkle the meat with ¼ cup flour and add another cup of water and bring to a boil.
Serve the goulash with egg noodles or boiled potatoes. Serves 6.
Praise for The Dead Celebrity Cookbook:
"God, is it brilliant!" – Ted Allen, Chopped
"These are the stars I grew up watching and they deserve to be remembered even if they were more talented on screen than they were in the kitchen." – Rosie O'Donnell
"One of our ten favorite pop culture cookbooks…most enticing…" – Flavorwire, Huffington Post.
"Dead tasty!" – Marie Claire
"While Halloween might come only once a year, there's never a bad time for The Dead Celebrity Cookbook." – bonappetit.com
"Flip on a movie channel and get cooking! Required reading." – Billy Heller, New York Post
"A veritable who's who of Hollywood's Golden Age." – Sara Bonisteel, epicurious.com
"Celebrities like Elizabeth Taylor and Andy Warhol may be gone, but their favorite dishes will never be forgotten. Try one tonight!" – oprah.com
"We hear Rock Hudson's Cannoli is delicious!" – Entertainment Weekly
"The perfect gift for your favorite cook." – Amy Scattergood, LA Weekly
"Chow down on your favorite dead stars' recipes. Come on, it won't kill you!" – Michael Musto, The Village Voice
Recipes may be reproduced with the following credit:
Recipes from The Dead Celebrity Cookbook Presents: Christmas in Tinseltown
by Frank De Caro. (HCI; October 2012; $14.95/Paperback: ISBN-13: 978-0757317002). http://www.hcibooks.com/.
October 2012–$14.95/Paperback–ISBN-13: 978-0757317002