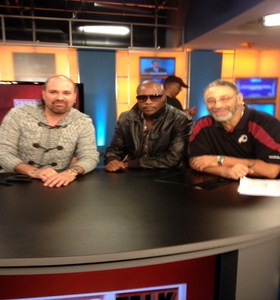 NewzBreaker Press Release
(Tony Jeter photo courtesy of Mike Greenhill)
Our very own CEO/Publisher "Bad" Brad Berkwitt will be appearing  tonight on the highly rated TV show Sports Talk with Host Glenn Harris that airs on News Channel 8 which is viewed in Virginia, West Virginia, District of Columbia and Maryland..
In addition, Tony "Mo Better" Jeter, 15-3-2, 10 KO's ranked in the top 30 by the WBC and holds the WBC FECARBOX & Universal Boxing Organization All Americas Middleweight belts who is coming off the biggest win of his career this past October 27th, when he beat Jimmy Lange via a split decision in their ten round bout at the Patriot Center in Fairfax, VA will be in studio with "Bad" Brad and Glenn.
Tune in live Wednesday night from 9:00 – 9:30 PM, for a night full of great talk about our beloved sport of boxing.