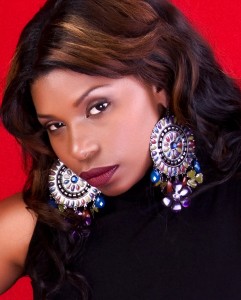 Exclusive Interview by "Bad" Brad Berkwitt
"I made mistakes, and I learned from them. As a result, my skill level and talent increased. Some are born with it and some may take years of development. I would say I fell in the middle." – Taz Robinson
At NewzBreaker you never know what our next interview will be. "Diversity" has always been my favorite word in Webster's Dictionary. With that said, when I ran across Taz Robinson, Makeup Artist Extraordinaire from what I saw on her website, the light bulb went off that both the male and female readers who visit us daily at NewzBreaker would find makeup tips and skin care a very interesting topic since just about everyone, does it in some form or another.
Taz is the owner of "Playing In Paint, LLC" out of Maryland, which she has been using her brushes and tools of her trade for over 11 years now. In an economy that is suffering, it's great to see a thriving business such as Taz's.
Ladies and Gentlemen, Mrs. Taz Robinson…
NB: Let's catch the NewzBreaker readers up on your current projects.
We have makeup classes on the Fundamentals of Flawless Foundation rounding out the year and we will soon be announcing our holiday makeover/photo shoot special. What I am most excited about is the opportunity to provide a beauty makeover to a cancer survivor in honor of Breast Cancer Awareness. (Partnered with Sacred Lox Salon)
We will be presenting as a Keynote Speaker at a Beauty Expo over the weekend (Nov. 11) on Evening Glamour, applying eye makeup, lashes, and offering custom tips and tricks.
We have our 2nd season of "Makeup 101" classes being held at PGCC and our own certificate courses are currently going on in Temple Hills, MD. We are working now to expand to the Baltimore area and seeking a location further south.
We are recruiting PNP Brand Ambassadors to expand the team. We are ready to bring the noise in 2013. This team is moving and growing faster than I expected. Every year for the past 3 years, we have produced Limited Edition T-shirts and 2013 will be no different. Look out for our new signature baby tees!
Our team will be attending the IMATS (International Makeup Artist Trade Show) in California in January to see what the new trends are and bringing this back to share with aspirants. We are excited about the next quarter.
NB: Where did you study to become a makeup artist?
I get this question all the time and many are shocked by the answer. Like others I admire in the industry, I was first self-taught, and then I cherry picked courses I wanted to take to increase my skill in the area of artistry I was best at. I never completed an entire curriculum at a standard school. I have taken classes with International Pro MAC Artists, Bobbi Brown Cosmetics, and Makeup Forever etcetera. I chose the brands I use, and learned from the professionals who used them. I then bought tons of books on beauty and bridal makeup, my personal specialty, and practiced until I was ready to become an artist.
I believe you can have the biggest makeup kit in the world, but if no one is ringing your phone and are willing to pay for your skills, you are not a makeup artist. I studied, I practiced, I watched, I shadowed, I made mistakes, and I learned from them. As a result, my skill level and talent increased. Some are born with it and some may take years of development. I would say I fell in the middle.
My background is in training as well, so I took notice of what worked for me and what didn't work during my journey to becoming an artist and incorporated it in my training program and I believe we have a recipe for success. You cannot imagine how many of my students have taken formal training with another school and still require some of the basics. They come to us and when they complete the program, they stay, there is always more to learn. I continue to try new things and create new trends myself. The learning never stops when it come to art. There is always something new for the eye to see.

NB: In 2001, you started your company "Playing in Paint, LLC." In the eleven years since you started your business, what has been the biggest change? Is this change for the better or worse?
The biggest change was starting as a makeup artist, to becoming an institution for developing, mentoring, and training others to be artists. I find each of them fulfilling in their own way. When I was focused solely on being a makeup artist, I traveled alone and my schedule was much more hectic. After training individuals, seeing the potential in them to be great artists, and grooming them to be a team member, our business blossomed into much more and I am looking to see where else it takes us. I am ready for the ride. This was definitely a change for the better.
NB: How did you come up with your company name, "Playing In Paint"?
The original name I started with was "Celebrity Looks by Taz" and I thought it was so cliché to have "by Taz" at the end of the name. I wasn't really happy with it so I was up for a change whenever I ran out of business cards. (Big laugh) Back then, I didn't have a functional website. Business was strictly word of mouth. One day on a fashion shoot with Meko, a stylist and makeup artist who happens to also be my cousin, were talking about a new name. During the conversation, I said something like, why does this have to be so complicated, it's just playing in paint, and she instantly said "That's it", and it stuck. I would like to think it framed the way we do business now. This is really what we do all day, Play in Paint.
NB: Who are some of the celebrities you can discuss you have done work for?
We, as a people, assume celebrity, where we instantly think of musicians and actors or others in the entertainment industry. However, I have loyal clients who are senior politicians, but I am not at liberty to say who. My clients choose to be discreet and part of the reason why I still have them is because I keep my mouth closed. I must go to their homes and remain quiet and complete my service.
NB: What is the one day in your entire career where you said: "I have created the perfect face?"
I would say, it was at a photo shoot and my model's hair was tied back. She wanted a soft smoky eye because she wanted to keep the makeup on after the shoot. I pulled out the airbrush machine and got to work. Her blue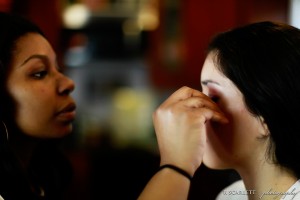 eyes looked stunning paired with the charcoal grey eye shadow, topped off with a peach gloss. I wanted to rock the look myself. Only those who sit in my chair know that I talk to myself when I am finishing a look, I kept saying "This is HAWT" and slapping my leg after putting on the finishing touches. I don't let my clients see themselves until I finish. I am in complete control and no, I am not a control freak, but every artist knows that a smoky eye looks horrible before it looks beautiful. She took a look in the mirror and loved it! She even called me the next day and told me she slept in it to wear it the next day and no, "I did not approve that message." (Big laugh)
NB: As a little girl, did you get into makeup via dolls to the point that you really felt you wanted to be a makeup artist when you grew up?
Actually I was a tomboy growing up. I climbed trees, jumped fences, and skipped rocks in the creek. It wasn't until I was a teen that my interest grew in makeup. My mother did some modeling and when she was tired, she would make me up and sit me in front of the camera for family pictures. I hated the ruby red lipstick she would put on me so I went to a makeup counter and decided to buy my own to use and a nice woman showed me how to use it. This was the beginning of my addiction.
NB: To the mothers out there that have little girls who really like to dabble in makeup, what is your advice to them for their young daughters?
Definitely cultivate that talent and interest. The earlier they start the better. At the age of 16, many schools accept students. At least see if the passion persists after having to sit in a classroom. The business savvy stuff comes next, but definitely test their drive and see what buds.
NB: What is the best way that women out there should take off their makeup at the end of the night?
Use both a makeup remover wipe for face and eyes and follow up with a creamy cleanser. Sometime the wipes don't remove it all. After that, put on a night cream so you wake up with fresh looking and supple skin. Heck there are some mornings I opt not to wear makeup at all because my skin will look and feel great. We all need a break sometimes to let our pores breath.
NB: What can you tell the male readers out there who want to hide bags or black circles under their eyes to either conceal or get rid of them?
Concealer would be your best friend. Makes you look younger and more polished. For bags, a concealer the same color to a shade lighter to conceal the bags. I would also recommend an eye cream to prime the skin for makeup. The skin in very delicate so have a light hand or you may make your situation worse. For men, there needs to be no trace of you wearing makeup. Natural makeup is the most difficult to achieve. It needs to look clean on a man, not made up like a woman. Now for darkness, it may require color correction which is a little advanced for a consumer. I had someone ask me to do a class specifically for men, maybe I will do a video tutorial to discuss options. I would say, talk to an artist before trying it. Maybe go to a Sephora or cosmetics counter. They can help match you and give you samples. I always recommend trying before buying.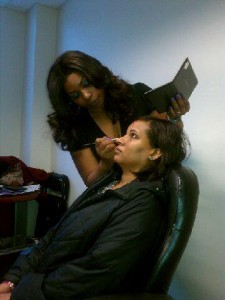 NB: What is the biggest misconception in your line of work?
A lot of people think if they can do their own makeup well, they can do other people.
NB: Your company mantra is "No Clown Faces." What exactly does that mean?
It means you will look like a more polished version of yourself when you leave our artists' chairs. You won't have hard brows, you won't have too much blush, and you won't be overdone. There is so much more to it, but it would take up the entire article (Big laugh) In a nutshell, when we would meet new clients they would say, "I like my makeup soft and natural. The last time I went to ______ and got my makeup done, I looked like a clown and I hated it." Our latest t shirts actually have "NO Clown Faces" printed on them with a logo.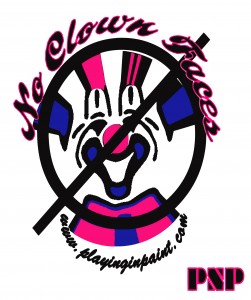 They sold out in one month.
NB: Do you have funny stories about a face you made up, but went terribly wrong?
Well once I made a mother of the bride a little too natural (per the bride's request) so she decided she would go upstairs in her home and add winged liner and red lipstick…For a daytime wedding! When I saw the pictures I had to declare to the bride, "I didn't do that!" (Big laugh)
NB: Talk about the classes you teach.
Our classes are highly interactive. We encourage group participation and we incorporate lecture, demo, and hands-on instruction into each of them. We cap our class sizes to be sure we can give enough attention to each participant. We strive to be certain they left with more knowledge and skill than they came to us with, if not, we have not done our jobs.
NB: What are your words of wisdom to the young man or woman who wants to break into doing makeup?
Have patience and remain humble. Some think they will begin to make money as soon as they finish training. Now many who have trained with us do, and some, with just as much school aren't that fortunate. Don't give up and keep practicing during your downtime. You should always work to perfect your craft. When you are not being paid to do makeup, network. Start to share with people, your passion for the industry. It is highly competitive, but each hand and personality is unique. Believe in your craft and know your worth.
NB: Who have you found vainer in your make up chair: Male or Females? Why?
Probably female models to be exact. Only because they have an image to maintain so I don't blame them. I take on the challenge to show them they can relax and be comfortable under my brush and it's my goal to turn them every time. (Big laugh)
NB: What is the first car you owned and any funny stories about it?
Oh wow! I had a Hyundai Tiburon, Fire Engine Red. All the kids at church thought I was the coolest. Crazy thing is, I was barely 19 when I got it and thought I was so grown I didn't need anyone to go with me to get a good deal. I came home with a $450 car note and a full tank of gas, but hey, she was fast, I got to work early every day. (Big laugh)
NB: If you didn't become a Makeup Artist, what profession would you have wanted to go into?
I wanted to be a news reporter and writer, go figure. I am in love with the camera. I still have fun in front of it every now and then.
NB: What is your favorite word?
Well, the word I use most often is "seriously."
NB: What is your least favorite word?
Can I pick 3? "I don't know" well that should count as one phrase. (Big laugh) If I have to pick one, I would say "can't."
NB: What is one thing you can share with the NewzBreaker readers that has never been heard before?
I won't sleep with my feet hanging off of the bed.
NB: What is the one question you have never been asked, but wish that you were?
Would you like that in monthly payments or one lump sum?
NB: The floor is yours…
I would take the lump sum. Tomorrow is not promised and I know exactly what I'd do with it. First thing is invest, rest is to be seen.
NB: If you were stranded on a desert island, what is the one CD and movie you would like to have?
I need a Tony, Toni, Tone CD and Boomerang is my favorite movie of all time. Each of them has moments that make me laugh and cry.
NB: Finally, do you have a saying you continue to live your life by?
"Never say you can't if you have not tried."
Check out Taz's website.