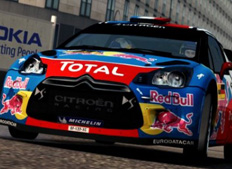 WRC 3 the Official Game of the World Rally Championships (developed by Milestone) is now available for PlayStation®3, Xbox 360® and Windows PC
Milestone, the largest Italian videogames developer and publisher for consoles and Windows PC, recognized worldwide as a leading Studio specializing in racing titles, has announced today that WRC 3 FIA World Rally Championship is now available in stores.
Watch the release day trailer here now:
To watch the official WRC 3 launch trailer click here
To download the official WRC 3 launch trailer click here
WRC 3 marks a radical departure from the previous titles in the series and sees the Milestone team using a completely new graphics and game engine – Spike Engine -, developed in-house over the last 2 years.
There are now 3 distinct game modes in WRC 3: ROAD TO GLORY, the newly designed career mode, WRC EXPERIENCE that will put the player in a professional rally driver's shoes through the 2012 World Rally Championships and WRC ONLINE, the multiplayer mode.
The game features all rallies from the 2012 WRC calendar, complete with all 54 leading WRC teams and drivers in the revamped career mode.
Milestone have streamlined every aspect of the game to give new players instant gameplay satisfaction, while still allowing experienced rally gamers to explore the game's full range of features.
"WRC represents a completely reboot for Milestone and it's the first of project series about WRC world. We've tried to include all the most requested features and we've worked with all the most famous drivers and teams for offering the best WRC experience ever", affirm Luisa Bixio, Marketing and Sales Manager.
"Of course this is just the beginning. We're preparing new exciting WRC 3 DLC – which will be announced in the upcoming weeks – and new exclusive surprises for all the rally fans", concludes Bixio.
Head of Marketing at PQube, Andy Pearson quoted:
"WRC 3 marks a radical progression in the series. The improvements the team have made are phenomenal and the early feedback from both consumers and press is that this is THE rally game for 2012."
Developed and published by Milestone, World Rally Championship 3 will be available on 12th of October 2012 for the Xbox 360® video game and entertainment system from Microsoft, PlayStation®3, Windows PC and on 26th October 2012 for PlayStation®Vita .
WRC 3 is available now – to find your local retailer visit:http://www.pqube.co.uk/wrc3/where-to-buy-wrc-3/
You can watch the launch trailer now at youtube.com/pqubegames or on the WRC 3 official Youtube channel: youtube.com/wrcthegame or download the trailer from: https://vimeo.com/51138416
For further WRC 3 info please visit http://www.pqube.co.uk/wrc3
Discuss WRC3 on Twitter using the #WRC3 or www.wrcthegame.com for more information.
Follow the official Facebook page: http://www.facebook.com/wrcthegame.