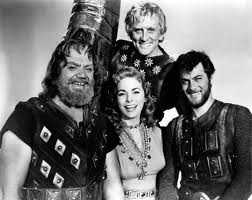 By Danny Allen
Hello readers from sunny Miami Beach where it was 81 degrees today. To my friends on the East Coast, I am sorry to rub it in. My old pal from my early days in Hollywood Kirk Douglas, was back in the news recently talking about his 1960 film classic, Spartacus. Douglas, an Acting Icon and still vibrant at 95, makes for good print which is no different from when I first met him on the set of the 1958 movie, The Vikings which co-starred my old chum, the late, Tony Curtis. Tony called my then assistant Misty, who he had a crush on and told her to pass on he was off shooting a "Viking" picture with KD as he called Kirk and he wanted the "Moxie Man" to fly out with Misty as his guests for the first week of shooting.
Misty and I boarded a plane for Norway which at that time, took forever to fly to on a TWA twin propeller airplane. When we arrived, Tony ever the prankster, had five guys standing in the off boarding area with roses for Misty and one overweight Norwegian broad standing in all things, a bikini while holding a sign, "Moxie Man" – Danny Allen, I am your limo driver. Misty fell on her ass laughing – and to be honest, I did too! In the wings, Tony in that Bronx accent yelled out, "Hey Jew don't be blue, I got you." We all embraced and went to Tony's limo with the rose guys following Misty.
Curtis, talked our ears off and said KD really wanted to meet the man who saved his pal Errol Flynn's career from the abyss. As our limo arrived on the set, Kirk was having lunch and hollered over to Tony, "get your Putz's over here and eat with me." Then as Tony did, he flirted with Misty who was pretty damn good at flirting back and with a wicked dirty sense of humor, she had Tony and Kirk in stitches.
After lunch, we went back and watched the daily's which all of us knew, this movie was sure to be a hit. Later that evening, Misty, Tony, Kirk and I, went to dinner and for the next 7 hours, shared many laughs – that cemented our friendship in the years to come. Though Kirk and I had not seen each other in a few years, both Misty and I attended Tony Curtis' funeral in Las Vegas in September 2010 and Kirk was one of the many mourners in attendance. Though it was a sad occasion, Kirk, Misty and I shared our memories of 44 years earlier that included our dear friend Tony Curtis. We all hugged goodbye and wished each other well.
It's great that Kirk at 95, is still with us. And to my old chum, Tony Curtis, may your putz who saw more action than most, rest in peace up there with my dear friend, Errol Flynn who I am sure, is in the "Putz Hall of Fame" with you…..