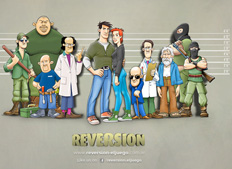 You wake up in a hospital with no memories… You are in Buenos Aires in year 2035 and the city is under the control of a military organization. Suddenly, you realize that your life is in danger and that you need to escape as fast as possible. What would you do faced with such a situation?
Find out in Reversion – The Escape, the first chapter of a graphic science-fiction adventure in point'n'click developed by indie studio 3f interactivo. Inspired by classics of the genre from Lucas Arts, Sierra or yet Pendulo Studios, 3F Soluciones thought its game for the fans of old school adventure games.
Reversion – The Escape propels you to a desolate future, robbed of your memories and looking desperately for a clue to understanding your predicament.
Play as Cristian and find his way back to his memories, through numerous puzzles and dialogues with intriguing characters.
Team up with Laura, a mysterious girl also held in the hospital, and escape from this hell. Along your way out, discover who you are and what happened before you woke up 30 years later to maybe change the future…
Plunge yourself in this fascinating adventure and reverse the disastrous events that led the city to ruins.
Take your chance to change the history; it's time for Reversion.
Available on the App Store on October 11
Price: $2.99 / 2,39€
Features:
– An incredible atmosphere with a perfectly suited soundtrack
– Original cartoon graphics
– A mature story with charismatic characters: meet with Laura, the
militaries and three other characters
– Challenging enigmas that'll held you for about 4hours.
– Free Hints
– 6 available languages (Chinese, English, French, German, Italian,
Spanish)
– Specific interface for each device (even the new iPhone 5)
– Specially designed to be played by all ages