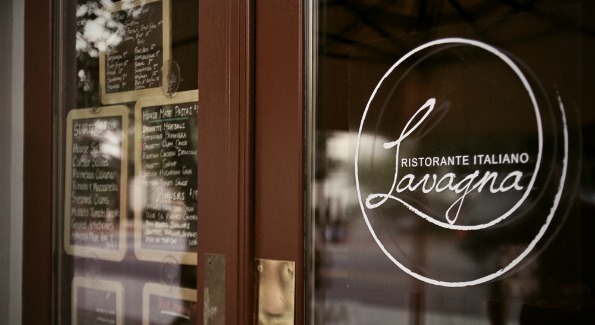 By "Bad" Brad Berkwitt
Lavagna, an Italian Restaurant, located at 539 8th Street Southeast Washington, DC 20003, is one of those treasures that you love to find while out on a Sunday stroll. My buddy, Lisa, and I did just that when we ate there for the first time a few weeks back.
The minute you walk in, you are greeted by the owner Stephen Cheung, who is very customer friendly and takes you to your table. Our regular waiter for the evening was "Tim." Because of the great service the first time around, we always try to get his table. (Make sure you do too)
Their menu is priced very well with my favorite dish, which I ordered both times, being Rigatoni Pesto Italian Sausage (with extra sausage – fuggetaboutit….). Something Lavagna does a little different is they offer both half orders and full.
For example, the half order of my favorite dish is $7.00 with a full being $14.00. Trust me, the full is the way to go and I love it so much, I always order another full dish of it.
Lisa ordered the beet and walnut salad along with the steak bistecca. She loved it!
The menu does change, but there are a few dishes that never do.
As you sit there soaking up the great smells and taste of the food they serve, you will hear the legendary crooners like Frank Sinatra, Dean Martin, Bobby Darin and Nat King Cole which adds to the ambiance of your dining experience.
Make sure to head over to Lavagna for your next Italian dinner and tell them "Bad" Brad sent you.
To find out more about Lavagna, click here:  or call to make a reservation by dialing (202) 546-5006.