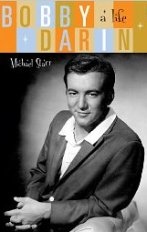 By "Bad" Brad Berkwitt
Bobby Darin was a larger than life singer and actor who sadly has his star burn out much too soon. In 1973, at the young age of 37, he would pass away, but he packed a lot of living in those 37 years.
In Michael Seth Starr's outstanding biography "Bobby Darin: A Life," the author takes you from Darin's humble start in New York City to his meteoric rise to fame in his early 20s. Starr covers how he always knew he would not live long because of his damaged heart from a case of Rheumatic Fever as a child, which plagued him throughout his life.
Throughout Starr's book, he talks to close associates who give great insights to the man who brought Mack The Knife to life with this finger snapping style and it took that great song to the top of the charts making it a smash hit and one he would become associated with from that point of his career, to this very day, years after his death.
This is the second book I read from Michael Seth Starr (the first being his biography on the late comedian Redd Foxx called Black and Blue: The Redd Foxx Story). I highly recommended both of his books for an enjoyable read and a look at two amazing careers that saw humble starts in life that led to amazing heights.
To order Bobby Darin: A Life, click here.