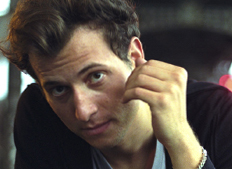 Exclusive Interview by "Bad" Brad Berkwitt
"The piano players have always excited me."–Peter Cincotti
Last year I was surfing Youtube looking for a great song that was from The Godfather named "COME LIVE YOUR LIFE WITH ME." Up until that time, I had only heard the version the late Italian Crooner Al Martino had done.
Well, in my search, I found a version that a young Italian singer had done. His name was Peter Cincotti, and his rendition, simply put, was amazing. From there, I searched out more of his music and found that he also was one heck of a piano player too.
Youtube is chock full of great stuff that he has performed. I suggest that you watch his live version of "I LOVE PARIS."
Peter sat down with NewzBreaker and discussed his musical career, thoughts on the industry and an interesting choice on which actor he would pick if he had to cast himself in a movie of his life…..
NB: Let's catch the readers up on what you are currently doing.
I have been in the studio on the west coast recording my next record which I just finished about a month ago. I am very excited about this album which the title is "METROPOLIS," and it's all original material. It should be out in spring.
NB: Growing up in New York (Manhattan) and in an Italian household, who were the artists your parents played?
I grew up with an eclectic mix of music, especially living in New York. I heard a lot of different styles. As kids, we went to Madison Square Garden to see rock concerts, Broadway shows and jazz clubs too.
Then of course, I have that section of the family that only plays Frank Sinatra and Tony Bennett.
NB: What inspired you at such an early age to get into music?
I honestly can't really remember, but when I was three years old, my Grandmother bought me a toy piano and taught me to play Happy Birthday. I always liked watching people play piano, but I really wasn't conscious of music until I got older.
NB: Who are some of the music artists that influenced you over the years?
I always listened to Ray Charles and many singer/songwriters like Randy Newman, Elton John and Stevie Wonder. The piano players have always excited me.
NB: I first became aware of you on Youtube when I found your rendition of the great track from THE GODFATHER: "Come Live Your Life With Me." Up until that time, I had only heard the late Al Martino sing this song. You knocked it out of the park…. How did the track come to you record?
Wow, that's funny you bring this track up and I was not expecting that. That track was actually on my first record and I can remember at that time, I was doing a lot more jazz than I am currently doing and I wasn't writing much. So my priority was to find songs that really had not been done too death and find my own way of doing it. I, actually, at that time, had not heard Al's version, but knew it from THE GODFATHER music score. Thanks for the compliment on my cover of it….
NB: You appeared in Kevin Spacey's fantastic movie, BEYOND THE SEA. I only have one knock on the movie and that is, they should have had Bobby Darin sing and not Kevin. What are your thoughts when they do movies about singers, but have someone else do the singing?
It's a tough call and it really depends on the kind of movie you want to make. I feel a lot of times when the actors try and sing in the pursuit of being more honest or as they can be, but I don't know if they get there a lot of the times. Bottom line: It's not the magic of the original singers' voice and regardless, I always like to hear the real singer.
NB: I have seen you play the hell out of the piano. Do you consider yourself a singer first, or piano player?
I feel I am piano player first and actually went about ten years playing before I opened my mouth while playing. Over the last few years, I have been dedicated to writing and singing.
NB: If you could duet with any living or deceased artist, who would you pick and why?
Tom Waits would really be cool because you have no idea what might come out of it.
NB: If you were to cast the movie of your life, who would you pick to play you?
Bea Arthur….. (Huge Laughs from both of us)
NB: The Maude or Golden Girls Bea?
Maude…..
NB: If you were stranded on a desert island and could only have one CD and one movie, what would your picks be?
The CD would have to be a box set and something of Frank Sinatra's. The movie would be THE GODFATHER.
NB: Finally, what is the saying you live your life by?
"Follow your gut."
Check out Peter's official website by clicking here.