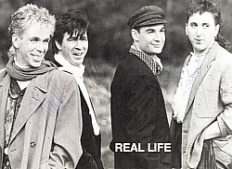 By "Bad" Brad Berkwitt
In 1984, MTV was number one and the synthesizer sound owned the airwaves. A group out of Melbourne, Australia, named "Real Life" had a smash hit with "SEND ME AN ANGEL" and followed up with another hit "CATCH ME I'M FALLING" from the album "HEARTLAND." The video by today's standards is quirky, but for the 80's era it fit in perfectly.
With David Sterry on Lead Vocals and Guitar, you had a fun tune, and in fact, the entire album is a winner. Very rarely do you have an album where a listener enjoys every single track and in my case, I did.
I have corresponded with David on a few occasions via email and he came across as a very nice gentleman who appreciated hearing from fans of Real Life.

Loading ...