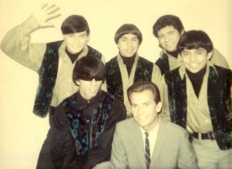 By "Bad" Brad Berkwitt
Earlier today in NewzBreaker Musical Memories we debuted with Keith's 98.6 and now, we go to another number song that was a massive hit in 1966 by ? & The Mysterians named 96 TEARS. The group was a garage band out of Bay City, Michigan who was led by ? (Rudy Martinez) who wore tight pants and was never seen without his sunglasses whether it was day or night. In 1966, it hit number one on the Billboard Hot 100 in the U.S. and on the RPM 100 in Canada and is ranked #210 on the Rolling Stone list of the 500 Greatest Songs of All Time.
Known for its signature organ licks and bare-bones lyrics, 96 TEARS has been widely-recognized as one of the first garage band hits and has even been given credit for starting the punk rock movement.
I chose a remake they did of their hit in 2008. It is not as strong as the original, but I wanted the RSR readers to get a good look at ? who even today, is ever the performer.

Loading ...