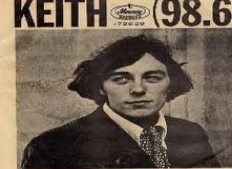 By "Bad" Brad Berkwitt
As a music fan, I always like to listen to those rare treasures from yesteryear. Since music is universal, I thought the NewzBreaker readers would enjoy a column that would find those gems that maybe have not been heard since they first came out or in several years. Since my musical taste goes back to the 1940's, you will never know what you may get in this column, but we will bring you a video with a few tidbits about the artist or group.
Our first artist is Keith out of Philadelphia, PA singing his 1967 hit, 98.6 which was on an album called AIN'T GONNA LIE. Great vocal and background band which gave listeners a catchy tune. As my Uncle Stan always says, "A good song, is a good song, PERIOD!
I chose to use a video of Keith doing it live from 2008 because he was still in great voice and also appeared with the Tokens.

Loading ...