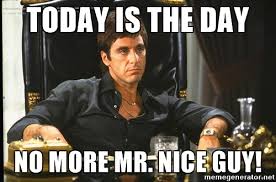 By Tatiauna Miller
I'm too damn nice. This is a flaw that I'm very aware of and I'm guilty of it on a daily basis. Some people are nice just to feel better about themselves or don't know how to say no. I don't have a problem with saying "no" and I also really don't need to see someone struggle to appreciate my blessings. My problem is that I actually care, I really fucking care about some of these people. When I say I care, I care too much. I've been known to give something to someone that I really needed and will probably never get it back but I actually cared what would of happened to them if I said "No".
I hate being nice. I wish I could just one day wake up and say "You know what? I'm going to be selfish today!" I'm going to love Tati more and love those other people a whole lot less. Being nice has not done me any favors and it's my fault. I've gotten in trouble at work for helping someone complete an assignment. I'm over here thinking I'm a team player and I get in trouble for doing their job. I've used my reputation to help someone get a job and they don't show up on the first day. I need to how you went from "I need a job to I don't need a job" in a matter of days.
Don't ever ask a "Nice" person for their opinion. A nice person is going to tell you exactly what you want to hear and the next thing you know you're on stage embarrassing yourself at Open Mic night. Many times someone has asked me if I've liked something and I've said "Yes" even though I hated it. But this is after doing the right thing and telling them the truth and people were pissed! Why are you mad at me? You asked my opinion and then you are mad over my thoughtful response. Do you know how hard it is to give someone your honest opinion? To see the light slowly die in their eyes after you've crushed their dreams. I'm telling you, it's tough. Shit, I probably should've just let them bomb on open mic night. I always wonder about those people on American Idol and American's Got Talent that have zero singing talent but swear their friends and family said they can sing. Your "Too Nice" friend lied to you!
Do you know what requires the most effort? Being nice to someone you dislike, for example some bad ass children. I always try to look mean around bad ass kids but it never works. They're always staring in my face asking me what's wrong? "What's wrong is, I want to be invisible to you but unfortunately I have your attention." I always end up playing with them kids because I feel bad and then regret playing with them because they are bad. My "not so nice" face never works. I make unwanted friends everywhere and I'm not even trying. I unintentionally become someone's psychologist on the plane; waiting in line for amusement park rides, slug cars etc. I've gone as far as practicing the "Not so nice" face in the mirror and I think it looks scary. I wouldn't dare talk to myself but people still do.
When you're always too nice people expect you to go above and beyond 100% of the time. That one time you give them 85% they act like you didn't do anything at all. I feel like being too nice gets tiring. As I grow older and become jaded about people in general, I find that I need time to recharge my nice battery. I've learned that nothing is more important than being nice to myself. I decided to put "Nice" limits on myself to improve my personal quality of life. As I started to put my nice limits in effect on people and situations, I've found that I have less people in my life. That's a good lesson for me to see who's around regardless of what can be done for them. Less people and less strain on my Nice Battery and I can use that energy on the ones that matter.
Thanks for giving me your time! Have a beautiful day, laugh more and live more!
Comments or questions are welcome.