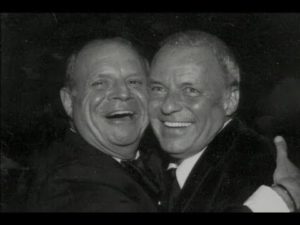 By "Bad" Brad Berkwitt
This one resonates hard with me NewzBreaker readers. Legendary comedian Don Rickles died from kidney failure today at the age of 90. For years, Rickles was one of the biggest comedians in the world where he did his insult comedy for sold out crowds around the world. He was Frank Sinatra's favorite comedian and only Rickles, could ever get away with the stuff he pulled on Sinatra from the insults, to the kissing him on the lips back in 76, on The Johnny Carson Show.
I had the honor to see Don in Atlantic City back in 99 and to this day, the personally autographed picture he signed to me hangs proudly on my office Hall of Fame Wall.
Rickles, was also a serious actor who had parts in such great movies as Run Silent Run Deep, with Clark Gable and Burt Lancaster along with, Casino with Robert Deniro and another film classic, Kelly's Heros with Clint Eastwood.
"MR Warmth", as Johnny Carson aptly named you, say hello up there to my dad who adored you as well and to Francis Albert. You all are truly missed.
NewzBreaker extends our deepest condolences to the Rickles Family in their time of grief.