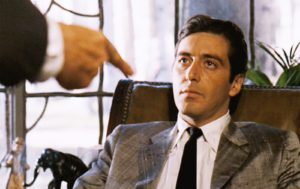 By Marla Eggar
"I don't like your kind of people. I don't like to see you come out to this clean country in your oily hair — dressed up in those silk suits – and try to pass yourselves off as decent Americans. I'll do business with you, but the fact is, I despise your masquerade — the dishonest way you pose yourself and your whole fucking family".–Senator Pat Geary (Dialogue between him & Michael Corleone in Godfather II.)
Over the years, I've pondered the idea about how similar the Government (both local and Federal) and the American Mob really are. Before I start, let me make some things very clear. I am a conservative, patriotic and Roman Catholic. I don't rationalize bad behavior. But I also don't piss down anyone's back and tell them its rain either. I'm aware that our government sometimes has to participate in certain activities for the greater good of the country. I (under most circumstances) don't question their tactics as long as the end result benefits the country as a whole. Nevertheless, I have a big problem with the government: truth, justice and American way. Particularly, when it comes to the mob. You see, I don't believe in picking and choosing your bad guys. To me, everyone must be held to the same standards not just the elements they deem despicable.
For example, a young man received an eight-year prison sentence as part of his plea bargain. His charges were for running a $1.6 million-a-year oxycodone ring in his Queens neighborhood. This young man held himself accountable for his actions. He also agreed to forfeit $259,996 in seized drug profits as part of the deal. He openly admitted to being stupid, young and dumb. He became the third generation of his family to land behind bars. Following in the footsteps of his grandfather, his uncle and at least three other relatives. I don't condone this behavior. This young man's name is John Gotti, the 23 year old grandson, of the late Gambino Boss John Gotti.
Out of the entire drug bust, you may not have even realized there were 8 other defendants that were facing charges for various drug possessions, drug sales, and money laundering and conspiracy charges. Why is that? Whose name did you hear throughout the papers? Who is the government really targeting here? The police "broke in doors" and "wrecked the house" because of Gotti's last name. Gotti's girlfriend and his grandmother, who has a history of strokes, was dragged down the stairs in the house. No one deserves this type of treatment. Why were they treated this way? I'll give you a hint, could it be that their last name has become synonymous with organized crime?
Now I told you that story to tell you this. Once upon a time, a drunken man had been driving back from a party to his families' compound. On his way, he veered off a bridge and into a deep pond. A woman was in the back seat at the time of the accident. The young man driving swam to safety offering no aid to his passenger. It was nine hours before he reported the accident. In the meantime, the young man walked back to his motel, complained to the manager about a noisy party, took a shower, went to sleep, woke up, spoke to a friend and two lawyers before FINALLY calling the police.
Once more it was 9 hours later. Divers on the scene surmised that if he had called them immediately, they would have had time to rescue the young lady. She had not drowned. Miraculously, she had survived in an air pocket inside the car.
Sadly, she asphyxiated only when the oxygen ran out – several hours later. This young man's family had ties not only to the FBI but the government as well. This young man used the family name to save his neck. In any other state, he would have been charged with homicide. Instead, he escaped with a slap on the wrist: a two-year suspended sentence and the loss of his driver's license for a year. He was allowed to plead guilty but only to the simple charge of leaving the scene of an accident. This young man's name was Ted Kennedy. The Kennedy's have an extraordinary family history, JFK – John Fitzgerald Kennedy – was President and the next in line, Robert "RFK" Kennedy, was Attorney General who had his own brushes with the mob and their eldest brother, Joseph Patrick Kennedy, JR., had died in World War II.
What's my point? The government talks about the mob and their ways like their tactics are so inconceivable. The fact is the government can be "worse than gangsters". For me, I guess Michael Corleone summed it up best …
"Senator we're both part of the same hypocrisy. But never think it applies to my family".
Comments or questions are welcome.