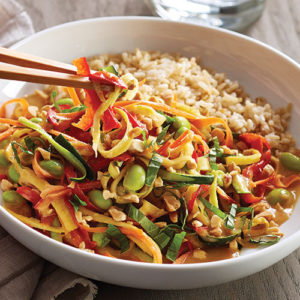 By Kristi O'Toole
This recipe is great for the occasional meatless dinner.
Ingredients:
Rice
• 3 cups (750 mL) uncooked instant brown rice
• 2¼ cups (550 mL) water
Coconut Sauce
• 1 cup (250 mL) lite coconut milk (shake before opening)
• 1½ tbsp (22 mL) Asian Seasoning Mix
• 2 tbsp (30 mL) creamy peanut butter
• 2 tbsp (30 mL) reduced-sodium soy sauce
• 2 tbsp (30 mL) cornstarch
Vegetables & Toppings
• 3 medium carrots, peeled
• 2 medium yellow squash
• 2 medium zucchini
• 1 medium red bell pepper
• 1½ cups (375 mL) frozen shelled edamame, thawed
• 1 tsp (5 mL) canola oil
• 4 garlic cloves
• ¼ cup (50 mL) fresh basil leaves
• ⅓ cup (75 mL) lightly salted dry roasted peanuts
Directions:
1. Combine the rice and water in the Rice Cooker Plus; microwave, covered, on HIGH for 12 minutes. Let stand, covered, for 5 minutes.
2. In a small bowl, whisk together the coconut sauce ingredients and set them aside.
3. Using the Veggie Strip Maker, grate the carrots, squash, and zucchini into long strips (avoid grating and including the seeds from the zucchini and squash ) over the large Glass Mixing Bowl (see Cook's tips).
4. Cut off the ends of the bell pepper. Cut the pepper into four pieces and remove the seeds; cut those pieces in half. Slice the bell pepper with the Spiral & Slice over the mixing bowl. Add the edamame to the bowl; toss the vegetables thoroughly with the Large Chef's Tongs.
5. Heat the oil in the Executive Nonstick Stir-Fry Skillet or the Stainless Steel 12" (30-cm) Covered Skillet over medium heat for 3–5 minutes. Press the garlic into the skillet with a Garlic Press; cook and stir 30–45 seconds or until fragrant. Whisk the coconut sauce and add it to the skillet and stir until thickened (less than 1 minute).
6. Add the vegetables to the skillet; toss well to coat. Cook, uncovered, 3–6 minutes or until the vegetables begin to soften and the mixture is heated through, stirring frequently.
7. Place the basil in a 1-Cup Prep Bowl and snip it with the Professional Shears. Chop the peanuts with the Food Chopper. Remove the skillet from the heat. Top the mixture with the basil and peanuts. Serve immediately over the cooked rice.
Kristi stays busy with her writing, shoe designing and Pampered Chef business so she knows how precious time can be; she also knows how important eating healthy and showing your children life beyond fast food can be. The Pampered Chefs Happy Families segment is designed with busy lives in mind. The recipes presented will be fast, easy and affordable to everyone. The tools you need to complete these meals can be found on her personal website.
Comments or questions are welcome.