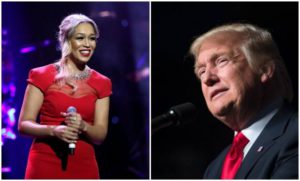 By Kristi O'Toole
British pop singer Rebecca Ferguson says she has been invited to perform at Donald Trump's inauguration, but her response may not be the RSVP the President-elect's team were expecting.
The former UK X-Factor runner-up said she would only accept the invitation on the condition that she could perform "Strange Fruit" — a song protesting racism in 1930s America, made famous by Billie Holiday.
In a statement posted to the singer's Twitter account on Monday night Ferguson said: "I've been asked and this is my answer. If you allow me to sing "strange fruit" a song that has huge historical importance, a song that was blacklisted in the United States for being too controversial. A song that speaks to all the disregarded and down trodden black people in the United States. A song that is a reminder of how love is the only thing that will conquer all the hatred in this world, then I will graciously accept your invitation and see you in Washington. Best Rebecca X"
The lyrics, written in the 1930s by Jewish communist Abel Meeropol, were composed as a protest poem to highlight endemic racism in America's southern states.
The song's opening lyrics deal with lynching, which was still happening in parts of the country at the time: Southern trees bear strange fruit // Blood on the leaves and blood at the root // Black bodies swinging in the southern breeze // Strange fruit hanging from the poplar trees.
According to Billie Holiday's Estate, Holiday regularly performed the song at live performances in 1939. Her record label, Columbia, refused to let her record the song under their name, so they granted her a one-session contractual release that gave Holiday clearance to independently record the track.
Later that year, the album featuring "Strange Fruit" sold a million copies, becoming Holiday's biggest-selling record at the time. In 1978, the single was inducted into the Grammy Hall of Fame.
When Kristi isn't writing for NewzBreaker, she writes supernatural suspense novels having three currently published. If you would like to check out any of her books they can be found online and at other major retailers like Books a Million and Amazon. Never one to rest, she also paints/designs shoes and items for the home. Check out her eBay store, Watered Down Vodka and her FB page.
[si-contact-form form