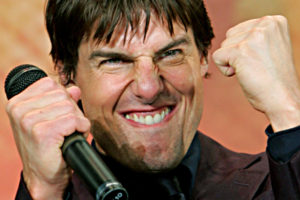 By Kristi O'Toole
Tom Cruise reportedly pressured Leah Remini to get a segment on Scientology pulled from airing on CBS.The "Mission Impossible" star urged the ex-Scientologist to call CBS chief Leslie Moonves and convince him to pull a "60 Minute" piece about the church, using her weight as one of the network's stars on the series "King of Queens." "I got a call from the church and Tom (Cruise) to call Les Moonves and use my influence to squash the story," she told The Hollywood Reporter.
The phone call was ultimately unsuccessful, as Moonves told her he would "absolutely not engage in this conversation." Moonves also said multiple people from the church had called before her to try and get the segment pulled.
Leaders in the Church of Scientology weren't happy that Remini, 46, didn't get the story squashed, according to the actress.
When Kristi isn't writing for NewzBreaker, she writes supernatural suspense novels having three currently published. If you would like to check out any of her books they can be found online and at other major retailers like Books a Million and Amazon. Never one to rest, she also paints/designs shoes and items for the home. Check out her eBay store, Watered Down Vodka and her FB page.
Comments or questions are welcome.