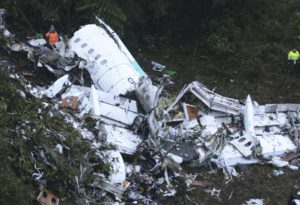 By Kristi O'Toole
In the mountains of Colombia, rescuers combed wreckage for survivors. Outside a stadium in Brazil, fans who thought they'd be cheering for their favorite soccer team came to mourn. The Avro RJ85 was en route Monday night from Santa Cruz, Bolivia, to Medellin when it crashed near Rionegro, Colombia, with 72 passengers and nine crew members on board, civil aviation officials said.
At least 75 people were killed, officials said. Six survived.
Players, coaches and invited guests from Brazil's Chapecoense soccer team were on board the charter flight. So were more than 20 journalists on the way to cover what was supposed to be a heartwarming chapter in a Cinderella story for a team of unlikely champions.
The soccer club, which has risen the ranks in Brazilian soccer and has a devoted national fan base, was set to play in the first leg of the South American Cup finals Wednesday.
Now hundreds of heartbroken fans have gathered at Arena Conda in the team's hometown of Chapeco, Brazil.
When Kristi isn't writing for NewzBreaker, she writes supernatural suspense novels having three currently published. If you would like to check out any of her books they can be found online and at other major retailers like Books a Million and Amazon. Never one to rest, she also paints/designs shoes and items for the home. Check out her eBay store, Watered Down Vodka and her FB page.
[si-contact-form form='3′]