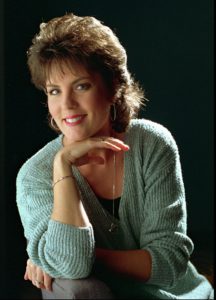 By Kristi O'Toole
Singer Holly Dunn, best known for a string of hits in the 1980s, has passed away after a battle with Cancer. Dunn had been battling a rare, aggressive form of ovarian cancer. WSMV in Nashville reported the news Tuesday morning, saying the former country hit maker passed away in the early morning hours. She was 59 years old. Born Holly Suzette Dunn on August 22, 1957, the singer got her start performing in bands in high school and college before moving to Nashville, where she worked as a demo singer and songwriter before signing with MTM Records.
NewzBreaker extends our condolences to the Dunn Family in their time of grief.
When Kristi isn't writing for NewzBreaker, she writes supernatural suspense novels having three currently published. If you would like to check out any of her books they can be found online and at other major retailers like Books a Million and Amazon. Never one to rest, she also paints/designs shoes and items for the home. Check out her eBay store, Watered Down Vodka and her FB page.
Comments or questions are welcome.