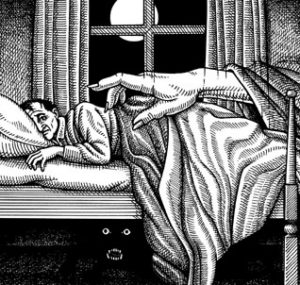 By Kristi O'Toole
Over time, Betsy Bell became interested in Joshua Gardner, a young man who lived not far from her. With the blessing of their parents, they decided to marry. Everyone was happy about their engagement. Well, almost everyone. The entity, for reasons unknown to this day, repeatedly told Betsy not to marry Joshua Gardner.
Betsy and Joshua's former schoolteacher, Richard Powell, had been noticeably interested in Betsy for some time and had expressed interest in marrying her when she became older. By some accounts, Powell, who was eleven years Betsy's senior, was a student of the occult although it has not been proved. He was secretly married to a woman in nearby Nashville, Esther Scott, during the time he spent at Red River expressing his fondness for Betsy. According to old accounts, Powell politely expressed his disappointment with Betsy's engagement and wished her a long and prosperous marriage with Joshua Gardner.
Betsy and Joshua could not go to the river, the field, or the cave to play without the entity taunting them persistently. Their patience finally reached critical mass, and on Easter Monday of 1821, Betsy met Joshua at the river and broke off their engagement. The disturbances decreased after Betsy ended the engagement, but the entity continued to express its dislike for John Bell and vowed relentlessly to kill him.
Bell had been experiencing episodes of twitching in his face and difficulty swallowing for almost a year, and the malady seemed to grow worse with time. By the fall of 1820, his declining health had confined him to the house, where the entity commenced removing his shoes when he tried to walk and slapping his face when he experienced seizures. Her loud, shrill voice could be heard all over the farm, cursing and chastising "Old Jack Bell," as she often referred to him.
John Bell breathed his last breath on the morning of December 20, 1820, after slipping into a coma the day before. Immediately after his death, the family found a small vial of unidentified liquid in the cupboard. John Bell, Jr. gave some of it to the cat, which died instantly. The entity then spoke up, exclaiming joyfully, "I gave Ol' Jack a big dose of that last night, which fixed him!" John, Jr. quickly threw the vial into the fireplace, where it burst into a bright, bluish flame and shot up the chimney.
John Bell's funeral was one of the largest ever held in Robertson County, Tennessee. As family and friends began leaving the graveyard, the entity laughed loudly and began singing a song about a bottle of brandy. It is said that her singing didn't stop until the very last person left the graveyard. The entity's presence was almost nonexistent after John Bell's demise, as if its purpose had been fulfilled.
In April of 1821, the entity visited John Bell's widow, Lucy, and told her that it would return for a visit in seven years. The entity returned in 1828, as promised. Most of its visit centered around John Bell, Jr., with whom the entity discussed such things as the origin of life, civilizations, Christianity, and the need for a mass spiritual reawakening. Of particular significance were its nearly accurate predictions of the Civil War and other events.
The entity said farewell after three weeks, promising to visit John Bell's most direct descendant in 107 years. The year would have been 1935, and the closest living direct descendant of John Bell at that time was Nashville physician, Dr. Charles Bailey Bell. Dr. Bell himself wrote a book about the "Bell Witch," published in 1934. No follow-up was published, and Dr. Bell died in 1945.
The entity that tormented the Bell family and the Red River Settlement almost 200 years ago is often blamed for inexplicable manifestations that occur near the old Bell farm today. The faint sounds of people talking and children playing can sometimes be heard in the area, and it's not uncommon to see "candle lights" dance through the dark fields late at night. Photography is especially difficult; some pictures taken in the area show mist, orbs of light, and other phenomena, including human-like figures who were not present when the pictures were taken.
The cause of the Bells' torment remains a mystery to this day. Numerous theories abound, but there is no one theory that is universally agreed upon by Bell Witch enthusiasts and researchers and there probably never will be. Different people have different standards of proof. Most do agree that there was "something" very wrong at the Red River Settlement in the early 1800s, and that there may very well be "something" wrong there today.
Who knows? I've done some firsthand research myself and can't really seem to find anything hardcore, especially regarding the visit of the high profile Andrew Jackson. I'm of the belief that something may have happened all those years ago, but how much was embellished?
Alleged horrific things happened to the John Bell family in 1817; perhaps next time it could happen to your family.
Keep a tight grip on your covers when you snuggle in for sleep tonight, you never know who or what may try and snatch them away.
The Bell Witch: America's Greatest Haunting Or Greatest Hoax? Part I
When Kristi isn't writing for NewzBreaker, she writes supernatural suspense novels having three currently published. If you would like to check out any of her books they can be found online and at other major retailers like Books a Million and Amazon. Never one to rest, she also paints/designs shoes and items for the home. Check out her eBay store, Watered Down Vodka and her FB page.
Comments or questions are welcome.