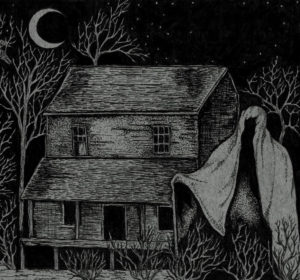 By Kristi O'Toole
Americans have affirmed their fascination with the unknown by making such movies as "The Sixth Sense," "The Blair Witch Project," and "An American Haunting" box office hits. Despite the frightening images and mass hysteria these films conjured, people are wanting more than just Hollywood thrills. Nowadays, it's all about well-documented, historical hauntings, where choreography, special effects, and screenwriting give way to the chilling and oft disturbing realities of life.
One such haunting is the legend of the so-called "Bell Witch," a sinister entity that tormented a pioneer family on Tennessee's early frontier between 1817 and 1821. Unlike the blockbuster films and many other ghost stories, the "Bell Witch" haunting involved real people and is substantiated by eyewitness accounts, affidavits, and manuscripts penned by those who experienced the haunting first hand. This distinction led Dr. Nandor Fodor, a noted researcher and psychologist, to label the Bell Witch legend as "America's Greatest Ghost Story."
In the early 1800s, John Bell moved his family from North Carolina to the Red River bottom land in Robertson County, Tennessee, settling in the community Red River, which later became Adams, Tennessee. Bell purchased some land and a large house for his family. Over the next several years, he acquired more land, increasing his holdings to 328 acres, and cleared a number of fields for planting. He also was made an Elder of Red River Baptist Church. After settling in, the Bells went on to have three more children. Elizabeth (Betsy) was born in 1806, Richard in 1811, Joel in 1813.
One day in 1817, John Bell was inspecting his corn field when he encountered an animal unlike anything he had ever seen before. Sitting in the middle of a corn row was a creature with the body of a dog and the head of a rabbit, Bell shot several times and the animal vanished. Nothing more about the incident, at least not until after dinner. That evening, the Bells began hearing "beating" sounds on the outside walls of their log house.
The mysterious sounds continued with increased frequency and force each night. Bell and his sons often hurried outside to catch the culprit but always returned empty handed. In the weeks that followed, the Bell children began waking up frightened, complaining that rats were gnawing at their bedposts. Not long after that, the children began complaining of having their bed covers pulled from them and their pillows tossed onto the floor by a seemingly invisible entity.
As time went on, the Bells began hearing faint, whispering voices. While the voices were too weak to understand, they sometimes sounded like a feeble old woman singing hymns. The encounters escalated, and the Bells' youngest daughter, Betsy, began experiencing brutal encounters with the invisible entity. It would pull her hair and slap her relentlessly, often leaving welts and hand prints on her face and body. The disturbances, which John Bell told his family to keep a secret, eventually escalated to such a point that he decided to share his "family trouble" with his closest friend and neighbor, James Johnston.
Johnston and his wife spent the night at the Bell home, where they were subjected to the same terrifying disturbances that the Bells had experienced. After having his bed covers removed and being slapped repeatedly, Johnston sprang out of bed, exclaiming, "In the name of the Lord, who are you and what do you want!" There was no response, but the remainder of the night was relatively peaceful.
The entity's voice strengthened over time to the point that it was loud and unmistakable. It sang hymns, quoted scripture, carried on intelligent conversation, and once even quoted, word-for-word, two sermons that were preached at the same time on the same day, thirteen miles apart. Word of this supernatural phenomenon soon spread outside the settlement, even to Nashville, where then-Major General Andrew Jackson took a keen interest.
John Bell, JR., Drewry Bell, and Jesse Bell, John Bell's eldest sons, had fought under General Jackson in the Battle of New Orleans. In 1819, Jackson decided to visit the Bell farm and see what all the hoopla was about. Jackson's entourage consisted of several men, some well-groomed horses, and a wagon. As they approached the Bell property, the wagon stopped suddenly. The horses couldn't pull it.
After several minutes of cursing and trying to coax the horses into pulling the wagon, Jackson proclaimed, "By the eternal, boys! That must be the Bell Witch!" Then, a disembodied female voice told Jackson that they could proceed and that she would see them again later that evening. They were then able to proceed across the property, up the lane, and to the Bell home where Jackson and John Bell had a long discussion about the Indians and other topics while Jackson's entourage waited to see if the entity was going to manifest.
One of the men claimed to be a "witch tamer." After several uneventful hours, he pulled out a shiny pistol and proclaimed that its silver bullet would kill any evil spirit that it came into contact with. He went on to say that the reason nothing had happened to them was because whatever had been disturbing the Bells was "scared" of his silver bullet.
Immediately, the man screamed and began jerking his body in different directions, complaining that he was being stuck with pins and beaten severely. A strong, swift kick to the man's posterior region from an invisible foot, sent him out the front door. Angry, the entity then spoke up and announced that there was yet another "fraud" in Jackson's party, and that he would be identified and tormented the following evening.
Now terrified, Jackson's men begged to leave the Bell farm. But Jackson, on the other hand, insisted on staying so that he could ascertain who the other "fraud" was. The men eventually went outside to sleep in their tents, but continued begging Jackson to leave. What happened next is not clear, but Jackson and his entourage were spotted in nearby Springfield early the next morning, presumably enroute to Nashville after an early departure from the Bell farm.
Stay tuned for the second half of the Bell Witch story, if you dare.
When Kristi isn't writing for NewzBreaker, she writes supernatural suspense novels having three currently published. If you would like to check out any of her books they can be found online and at other major retailers like Books a Million and Amazon. Never one to rest, she also paints/designs shoes and items for the home. Check out her eBay store, Watered Down Vodka and her FB page.
[si-contact-form form='3′]