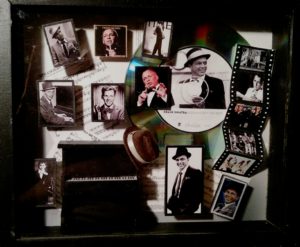 By Jerry Pearce
Although Frank Sinatra didn't make the much-publicized list of thirteen top-earning deceased celebrities by Forbes Magazine published in the conclusion of 2015, it was hinted by the author that Sinatra didn't fall very behind in the running. Indeed, in the present day, Sinatra and his related memorabilia are still a formidable presence on the world market. Boosted by the celebration of his one hundredth birthday this past year, collectibles of all facets seem to be everywhere. From compact discs, vinyl reissues and boxsets at music stores, to a plethora of titles in book outlets, to the considerable amounts of vintage items and reproductions for sale on internet sites with the likeness of eBay and Etsy, it has been well proven that public interest in the Chairman of the Board has waned very little in the eighteen years since his death.
Still prevalent is that old phrase "one man's trash is another man's treasure," and the advent of an auction site like eBay helped the entrance of that phrase into the digital age, with the ever-popular "buy it now" option becoming a hot button for Sinatra purists looking to obtain rare material.
Rare items include ticket stubs, vinyl records, concert posters, vintage promotional material (including record release posters, adverts, and personalized letters to disc jockeys), old photographs, statuettes, busts, coffee mugs (one of Sinatra's pleas to his children in his last years was that he not wind up emblazoned on a coffee cup), casino chips from the Sands Hotel and commemorative items from Sinatra's time at Caesar's Palace in Las Vegas (plaques, ashtrays, menus, medallions), not to mention a plethora of rare recordings and limited edition bootleg releases that have been sold from collector to collector in both vinyl and compact disc form. Copies of some of these "unofficial" albums (which include live performances as well as collections of studio outtakes) have sold for $100 + each.
Another Sinatra item often seen for sale on eBay are those much-coveted concert programs. At one time or another, you'll see a Sinatra program for sale or bid from nearly every decade of his performing career, dating all the way back to the 1940s. One in particular that interested me a few years ago was a 1975 concert program from Sinatra's New York appearance with Count Basie and Ella Fitzgerald at the Uris Theatre. Though copies of the program were seen traded often on the site, it was what came with this program that made it a worthwhile buy: four audience-taken photos from one evening's performance, two of Sinatra in closeup, and two taken from a distance, with all three principals on stage taking bows. Two years have passed and I STILL haven't found the proper frame to display these rare snapshots.
Beyond the purchase of vintage material, the Sinatra family estate has seen fit to preserve the legacy of the elder statesman of popular music across several avenues of media with the release of new collectibles issued to both physical outlets and internet retailers. Although there was a period following Sinatra's passing that there were few new items being released, Carlton Cards stood at the forefront of the Sinatra trend when they began issuing commemorative Christmas ornaments each year in conjunction with the Sinatra estate, each year depicting a different landmark moment in Sinatra's life. Hallmark would overtake that trend several years later with the issuing of their own ornaments. The Franklin Mint followed with a series of commemorative singing plates. Several oversized books were published over time, including The Sinatra Treasures, The Sinatra Family Album, not to mention the recent (and excellent) Sinatra 100 centennial volume.
In terms of audio, a trend in deluxe boxsets began in the early to mid-2000s with a series of travelogue collections, showcasing Sinatra concerts in Vegas, New York, and London (soon to be joined by a collection containing worldwide performances this October), not to mention another felt-tinged boxset containing all of his music made for motion pictures and related material in Hollywood. Two further boxsets chronicle the rise of Sinatra before his major climb to stardom at Capitol (A Voice in Time) while another recent collection displays all of the material Sinatra recorded for radio during the first few decades of his career (A Voice On Air).
All of these releases were capped by last year's issuing of Ultimate Sinatra, a four disc career-spanning collection of one hundred of the best Sinatra songs in deluxe packaging commemorating what would have been the singer's centennial. Last but not least, with popularity in the trend of vinyl records and turntables rising once again, many if not all of Sinatra's classic albums were reissued in LP form with the Sinatra 100 imprint.
To those casual fans looking to begin or expand on their collections, the majority of these items are still in print and readily available. For a Sinatra fan like myself, I'm overjoyed to know I can go into any Barnes and Noble and pick up a copy of "In The Wee Small Hours" or "Close To You" on a BRAND NEW vinyl record.
The inspiration for this brief look at Sinatra memorabilia began, I suppose, with a sideways glance at a shelf in my bedroom, to one Sinatra keepsake that I hold very dear to my heart. As far as I know, this piece is an original, and different from other Sinatra items considering the fact that it was handcrafted. If you recognize this piece from its description or the accompanying photograph above, please don't bother to tell me. I'm fond of the thought that I possess a piece of art that is one of a kind.
I was dating a beautiful young woman for a few years, who, confronted with my Sinatra fanaticism, not only accepted it, but added to it. She left for a weekend to visit her girlfriend up in suburban Connecticut. Having visited a street fair during her trip, she returned home with a large bag in tow. My mind was quite blown when I pulled a heavy piece of wood out of the gift wrap. It was a shadowbox, with a dollhouse-like display depicting, pretty much, the entirety of Sinatra's career. With a compact disc of "Nothing But The Best" and sheet music of his popular songs forming a backdrop, exploding miniature photographs and a film reel running down the right side of the display told the story of Sinatra's life in pictures, from infancy to old age. On the left side, a miniature three dimensional piano sat with a fedora hanging off one side. Astonishment is the only word I have to explain my reaction to this gift.
The shadowbox still sits up on my shelf surrounded by my collection of Sinatra ornaments. I don't associate with that young woman any longer, but I'm glad that I neglected to throw out the box at the conclusion of our relationship. Now that I look around, I realize it's the one thing I kept from that time in my life, and peering into the window of that box, well… it's my way to remember those good times gone by. The fact that it's also related to my hero makes it all the more special. Having just reflected on that story, I'm really glad that I DON'T have the In The Wee Small Hours album on right now!
Now that I've touched on some of my important collectibles with you, we'd like it very much if you shared some of your Frank-related items with us for a future article. Use the box below to tell us at NewzBreaker about your special Sinatra memorabilia and why they mean something to you!
Until next time, Sinatra lovers!
Jerry Pearce is an amateur singer in the vein of Frank Sinatra, Perry Como, and Dick Haymes and has released two discs of standards music, Crossroads in 2010, and One Summer Night in 2016. Samples of his music can be heard on his YouTube Channel. To purchase his CDs use the form box below.
Comments or questions are welcome.